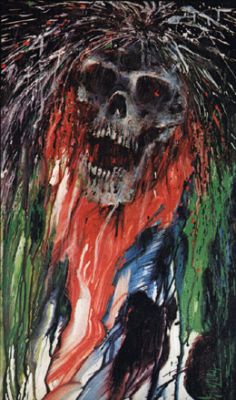 As I got ready for work this morning, the Sci-Fi Channel was airing the original Night of the Living Dead, seemingly with all its (circa 1968) gore intact. As I watched a zombie child munching on the remains of her recently deceased father, I took a moment to reflect on how times have changed. What was once the (literally) gut-wrenching, groundbreaking, taboo-shattering nightmare fuel of a thousand drive-in theaters was now early morning filler fare on basic cable.
Last weekend, Saw III was the number one film at the box office, something which caused 60 Minutes to express surprise, as if the popularity of horror films is in any way a recent or unusual phenomenon. It's been remarked that Saw III, Hostel and their ilk reflect an acceptance of torture as both popular entertainment and public policy. I think that's crap. Much like roller-coasters, horror stories are always about two things: giving people the wiggins, and allowing them to "survive" the experience. There are almost certainly some who get their rocks off on seeing people tortured, but they are the minority. Most of those going to see Saw are doing so to experience the thrill of terror without suffering its consequences.
As a kid, I was scared of a lot of things. Here's a partial list:
1] Spiders. And I still am.
2] Skulls, especially if they were attached to an otherwise intact body.
3] Rod Serling's Night Gallery.
4] The Blob, and by extension, any monster that could crawl through the crack under a door.
5] Disney Records' Chilling, Thrilling Sounds of the Haunted House, particularly the track where the astronauts were eaten by Martians.
6] Werewolves, mostly because they were much faster than your garden variety mummies and Frankensteins.
7] Buildings with high interior ceilings, such as the main hall of Chicago's Field Museum. I still don't understand that one; it was a sort of reverse vertigo.
8] Late night commercials for cheap horror films. To this day, I vividly remember the ads for It's Alive and Suspiria. The latter featured the back side of a woman's head, which turned to reveal a skull. (See #2.)
Much of my childhood insomnia is directly attributable to my fear of The Blob. This was despite the fact that I also read books about special effects and magazines like Famous Monsters of Filmland, and knew full well the difference between fiction and reality. In this regard, I am testament to the argument that you shouldn't expose your kids to scary movies.
But here's the thing. I still sought the stuff out. I "watched" Kolchak: The Night Stalker and Beware! The Blob from the relative safety of the dining room. I ravenously devoured Saturday afternoon monster movies and Ray Bradbury's creepy short stories.
And I survived. Here I sit in my office, blasting my special Halloween iTunes playlist (which, not at all coincidentally, includes the sound effects tracks from the aforementioned Chilling, Thrilling Sounds of the Haunted House) and remembering that in a world of truly terrifying things it can still be fun to be frightened.
Movie posters that freaked me out.