Travelling This Holiday? Visit The Holy Land!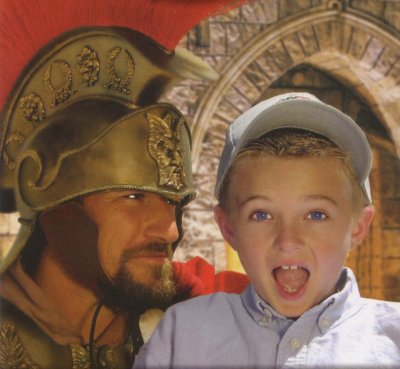 When Vicky and I visited Orlando in October, we didn't have time for much of anything beyond the Disney confines. However, that didn't stop me from picking up flyers for some of the other theme park attractions. And in honor of the holiday season, I will now share with you highlights of the pamphlet for Orlando's Holy Land Experience.
I love the image to the left, from the flyer's front cover. I'm not sure what emotion the little boy is supposed to be portraying. Is it, "Yippee! I'm about to be persecuted for my beliefs!?" I believe that the Roman soldier is thinking, "You will be tasty."
"Ancient Adventures!" cries the ad copy. "Visit Jerusalem in Orlando!" I can certainly understand the appeal of the latter, given that the real Jerusalem is a) in a foreign country, and 2) prone to detonation. On the other hand, I suspect that the real Jerusalem is not made of fiberglass.
Among the attractions of this quasi-religious experience is "Calvary's Garden Tomb," a replica of the cave in which Christ was buried and resurrected, and which, the flyer claims, is "a perfect place to enjoy CenturyTM, the music ensemble of The Holy Land Experience." One of the musical reviews is "Praise Through the Ages," an "energy-filled combination of music and art showcasing man's worship of the true and living God throughout the centuries." And for the kids, there's the "Qaboo & Company Oasis Outpost," featuring a cartoon camel and a simulated rock pillar climb. "Pretend that you're scaling Lot's Wife!" (Not an actual quote.)
While visiting the Holy Land, you can "interact with colorfully-dressed street merchants, scowling Roman guards, ancient Jewish priests, and an adorable collection of lovable four-legged friends." (Emphasis mine.) Ah, the Lord's petting zoo.
"Guests of all ages are thrilled with just how much there is to see and do!" Well, except for the kids, who, after two hours in the Scriptorium Center for Biblical Antiquities, will be wondering where in the hell is Mickey Mouse and why they couldn't have been adopted by a family headed for the Magic Kingdom.
At least there's the food. "Be sure to save some time to 'grab a bite' at our Oasis Palms Cafe!"
Is it just me, or is it vaguely inappropriate to name a tasty food item after a Philistinian warlord?
So, next time you're in the area, be sure to stop by The Holy Land Experience. And tell 'em that Jehovah sent you!