A Condom A Day (The Trip, Part One)
Vic and I returned home last night from our vacation in Seattle and Portland. It was in many ways one of our better trips–especially for one so haphazardly planned–though if we had it to do over again, we would have made a few changes.
We spend most of the previous Wednesday en route, and as we flew out of Indianapolis and had a stopover in Denver, we actually set foot in all four mainland U.S. time zones on a single day. I apparently forgot to take off my "I (Heart) Al-Qaeda" button, as my bag was searched twice during the trip. Thanks, Homeland Security!
A spectacular view from the plane as we flew into Washington state. Not sure if this was Mt. St. Helens, as it wasn't erupting at the time.
We landed in Seattle, but drove a rental car to Portland that night. We didn't arrive at our lodging until about 11:30 pm Pacific Time, so we were a bit groggy and somewhat unprepared for the reaility of the Jupiter Hotel. It's a former Travelodge that's been rehabbed into some sort of trendy youth party hangout. Bands play almost nightly at the adjacent Doug Fir Lounge and a firepit in the courtyard burns until 2:00 am. Vic wasn't too sure about the place, but I thought that it beat a Holiday Inn Express. And hey, instead of a pillow mint, free condoms!
The next day, they left a second one. By the third day, they must've decided that no one in our room was getting lucky and gave up.
The place wasn't bad so long as we had the air conditioner drowning out the ambient conversational noise, except when we were awakened Saturday at 5:30 am by someone practicing their drums. I called the lobby desk, and even they seemed a bit surprised by that. The drums eventually quieted down, but they never stopped.
I quite liked the woody, retro restaurant at the Doug Fir. Their breakfast menu was unusual and tasty.
Maybe it was just the part of town in which we found ourselves, but Vic and I both felt that Portland was kinda shabby. Lots of bums; lots of missions to service the bums. The Chinatown district was almost derelict.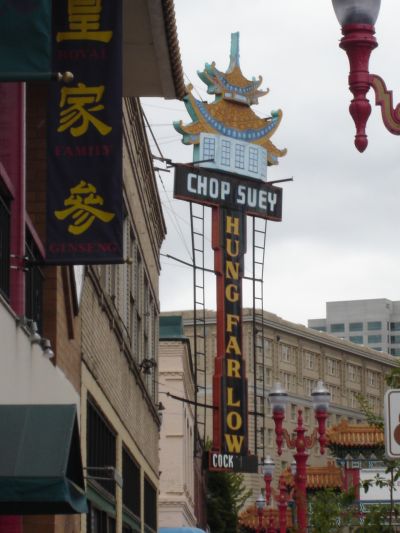 This photo of an apparently defunct Chinatown restaurant is not at all Photoshopped. Seriously.
That said, there were some highlights. We both enjoyed the tranquil Chinese garden that sat amidst the Old Town squalor.
I thought the bonsai trees were really neat, but they lacked something…oh wait, I've got it…
Armor plated space nuns!
We found some interesting places to shop, including a couple of toy collectors' havens. One specialized in "urban vinyl" figures and Japanese toys, and had an adjacent eatery called the Kaiju Cafe. The other was a more traditional–but very well-stocked–shrine to '70s and '80s kitsch, and I was happy to find a loose, complete Antron alien from the old Micronauts line.
No, this isn't Antron. It's the unfortunate denizen at the bottom of our plate of antipasto. Poor bastard was killed and breaded, and we didn't even eat him.
We also made it to Powells Books, an absolutely amazing repository of books both new and used. The place is so complex that the rooms are color-coded. I found stuff that I forgot I ever remembered, and could've spent days in there.
A colorful house from the granola-munching section of town. "It's bright blue and yellow, you can't miss it! No, I mean it, you REALLY CAN'T MISS IT!"
The best part of our stay in Portland was a trip to the Japanese garden. (It only seems like we're really into gardens.) Larger and much more elaborate than the aforementioned Chinese locale, this one was set amidst the huge Pacific Northwest trees of a nearby park. The guided tour demonstrated just how much thought and philosophy went into its planning.
It almost made me want to garden. Almost.
Next: Seattle, plus a stopover in Twin Peaks!