Tossed Salad And Scrambled Eggs (The Trip, Part Two)
NOTE: You receive Bonus Points if you can identify the above reference and its relevance to this post. Bonus Points may be redeemed at your local Redemption Center. Void where prohibited (pretty much everywhere).
We left Portland early Saturday morning (earlier than planned, thanks to the drum practice) and made our way to Washington. Our first stop was the picturesque town of Snoqualmie and Snoqualmie Falls, one of the backdrops to the late, lamented TV series Twin Peaks. The hotel at the top of the falls, the Salish Lodge, stood in for the Great Northern on the show, though the interiors were filmed elsewhere.
Most of the major exterior sites in the show were filmed in/around Snoqualmie and nearby North Bend. The most famous is certainly the former Mar-T Cafe, which stood in for the Double R Diner. Now under new management, the renamed Twede's Cafe still trades on its TV land heritage, proclaiming itself the home of Twin Peaks cherry pie and a "damn fine cup of coffee."
The coffee might've been fine, but damn, the food sucked.
I went there with the sole purpose of eating a piece of cherry pie, but as we hadn't had lunch and didn't want to spend a lot of time looking for another suitable restaurant, we overlooked the obscenely high prices and ordered a meal. Big mistake. Twede's has 50 styles of burgers, and though my Hawaiian model was passable, it was by no means an eight dollar sandwich. The fries were terrible, and Vic's sundae melted by the time the glacially-slow waiter brought it. The cherry pie…well, truthfully, it was very good. Damn fine, in fact. And if anyone at Twede's actually made it, I'll eat my Twin Peaks guidebook.
About to enjoy some delicious cherry pie.
Compared to dumpy Portland, we found Seattle to be gorgeous. I would go so far as to say it was the most beautiful skyline I've ever seen. We stayed in a nifty little hotel called the Mediterranean, which Vic insisted upon referring to as the Metropolitan. It was everything the Jupiter wasn't, which is to say that we could leave the window open all night and still get a restful night's sleep.
View from the Space Needle.
Saturday evening found us at the Seattle Center, home to the Space Needle and what turned out to be my favorite destination of the whole vacation, the Science Fiction Museum. Founded by former Microsoft employee Paul Allen, who was also responsible for the first private spaceship, it houses an incredible collection of TV and movie memorabilia, most of it purchased by Allen himself.
The bizarre exterior of the museum. Sorry, pictures of the inside were not allowed.
The exhibits were well curated, with a great deal of attention paid toward tying them into various sci-fi themes. The museum was set inside a series of "space station" corridors, and there were lots of light and sound effects. One of the most impressive set pieces was a 10-foot viewscreen depicting twenty-or-so classic movie/TV spacecraft flitting around an orbital dock. The props themselves were at once shabbily-constructed (after all, they don't have to be good to look good) and amazingly cool. All in all, I found the museum spectacular and enthralling.
Later that evening, we went up in the Needle, then got our first good night's sleep of the trip.
Sunday saw us taking the Seattle Underground Tour, a funny and fascinating story about the early days of the city and the reasons that much of the downtown area was built above ground level (hint: it has a lot to do with poop). While the actual underground portion did not fulfill my fantasy of a vast labyrinth filled with Morlocks and night stalkers, it was a great history lesson and we wound up buying the book.
We visited the Pike Place Market and saw the booth where the vendors toss fish at each other. Even they seemed to think that it was less exciting than it sounded. Funny thing about this trip is that we never found a single good seafood restaurant. Guess Seattle is more about the importing/exporting, less about the fishing.
Lew Zealand's Amazing Boomerang Fish Act.
Later that night, we wandered around the Seattle Center and discovered a huge, amazing, public fountain which was synchonized to music and capable of shooting gouts of water some fifty feet into the air, much to the delight of the kids frolicking about it. And it seemed like a good idea at the time for me to join them…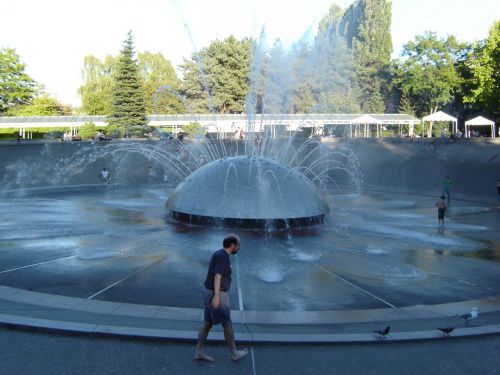 Man, was my ass wet the rest of the night.
Looking for a place to eat, I suggested a fondue restaurant called The Melting Pot, figuring it was something we'd never tried. It was enjoyable up to a point. We both loved the appetizer portion, with a pot of four types of cheese and lots of stuff to dip in it. The main course was rather daunting, however. We were served a selection of uncooked meats and vegetables; various batters and dipping sauces; plus a pot of boiling oil. The waiter instructed us to fry the seafood for 90 seconds, the beef for two minutes, and the chicken for two-and-a-half. So, fifty-eight bucks for dinner, and we have to cook our own meal? When I asked how we should know that we'd left it in the pot long enough, he said that we had to estimate. It was like a game of culinary Russian Roulette…guess the time correctly or wind up with salmonella! The food was good, and there was a lot (too much) of it, but it was more stress than I cared for. Next time I'll bring a stopwatch.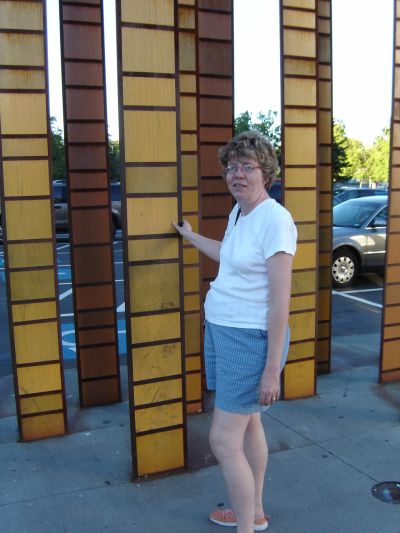 Vic enjoys some art at the Seattle Center.
For the last day of our vacation, we'd made a reservation for a whale-watching boat tour. It was another thing that seemed like a good idea at the time. It started off promisingly enough, with some pretty scenery and occasional brief encounters with harbor seals. But it just went on for too fucking long. The trip out to the San Juan Islands was supposed to be three hours and change, but wound up being four…on a small boat (not the nice clipper pictured on the web site) with nothing to do. Once we'd reached our destination harbor, it was perhaps another 45 minutes to the spot where the whales were.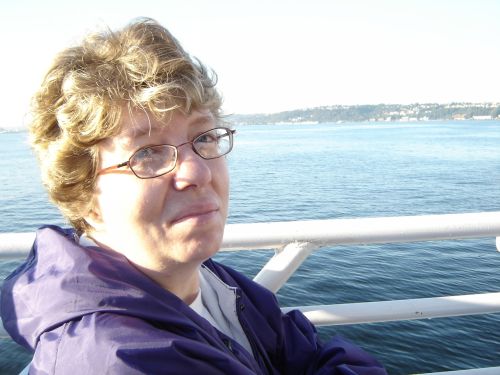 If Vic looks kinda grim in this picture, you shoulda seen her after ten hours on the boat.
I'll grant them this: we certainly did see a bunch of killer whales. There were a couple of pods' worth, and while we couldn't get very close due to wildlife regulations, we did see several "breach" the surface. It was pretty neat, but honestly, after five hours at sea (with another five to go), I thought they should be climbing up on the boat, putting on straw hats and doing a soft-shoe number.
It's really hard to take photos from a moving boat.
Due to travel delays, we had very little time to eat in Friday Harbor, but I did enjoy this sign, posted at the local ice cream shop:
"Servers stop making shakes when outnumbered."
Then it was another four hour boat trip back to Seattle. Thank God for the iPod. The whales were cool, but not eleven-freaking-hours-at-sea cool.
At least we got a really nice sunset out of it.
We got home late last night, glad to be back and to have our kitties meet us at the door. We can mark off a couple more states off our U.S. map, plus we found 95 cents in loose change to add to our total for this fiscal quarter!