You'll Put Your Eye Out
Yesterday I attended the University of Illinois' service recognition luncheon, where I was honored for surviving two decades on the job. Truth to tell, it won't be twenty years until April 21, but at this point I'm pretty sure that I'm gonna make it.
It was a nice enough lunch, even it did involve one of those weirdo salads composed of leaves and lawn clippings. Over the years, I've been to my share of fancy luncheons, and they invariably involve a plate of foliage. I've found that while one typically has the option to order a vegetarian or kosher meal, no one ever asks if you would prefer iceberg lettuce and Thousand Island.
Anyhow, my table companions, most of whom had only reached the ten year mark, were eager to see what gift the twenty year inmates received. Given that one of my previous service awards was a U of I coffee mug, I was curious myself. Popping open the box, I was pleased to find a nice desktop notepad holder.
Exploring further, I found this curious-looking pen with what I presume to be a letter opener on the other end. A highly pointy letter opener. One which I am fairly certain could easily slip between a pair of ribs, possibly mine.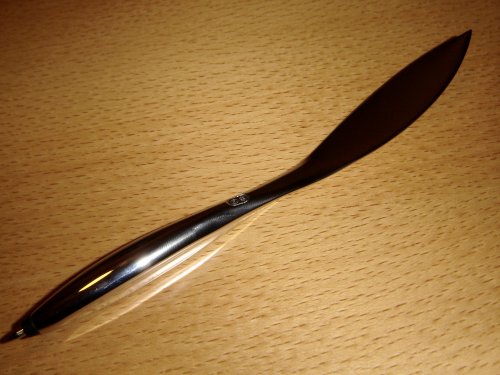 To add injury to potential further injury, I was amused to discover that the pen fits into the notepad holder thusly. With the stabby bit sticking up. Right at my eye.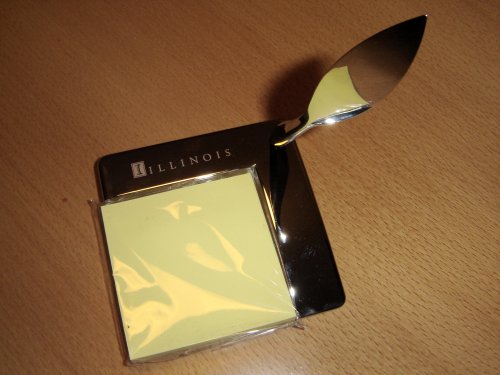 Thank you, University of Illinois, for the shiny, new workplace hazard! If I avoid falling upon my pen over the next ten years, I eagerly await the commemorative straight razor!