Basement 2.0!
After what seemed like a month, but was only four weeks, our contractors finally completed their work on our newly-finished basement Wednesday night! They did great work–aside from one or two small matters that we may or may not attend to at a later date–and as much of a pleasure as they were to deal with, I am so glad that they're gone. It's great to return our home to some semblance of normalcy, clearing piles of stuff out of the bedrooms, moving the cats' things back downstairs and getting all of the garbage and scrap lumber out of the garage at last.
Here's a quick tour of the premises. It doesn't look like much yet because we don't have any furniture or decorations for it. I really wish that I'd taken some "before" photos so that you could see the tremendous difference between its previous state as a dusty pile of clutter to its reincarnation as an entire second floor of living space.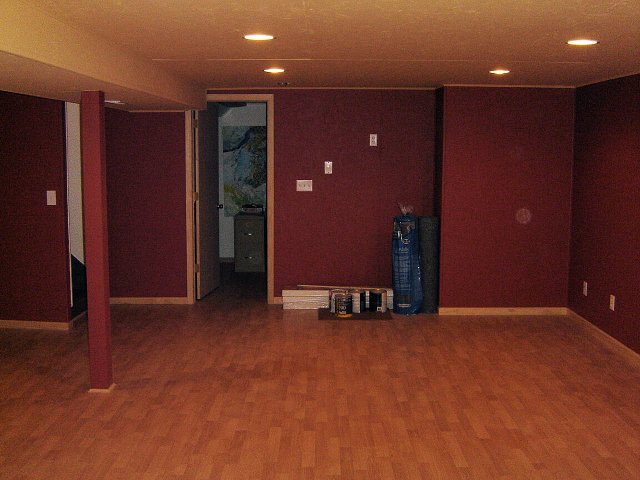 A view of the large, central living/game room. Our contractors boxed in the ducts and the support poles, cut heating vents into the ceiling and gave us a slew of outlets. On the back wall is the new door to my old office.
The living room as seen from the opposite side. I expect a TV to go in that corner.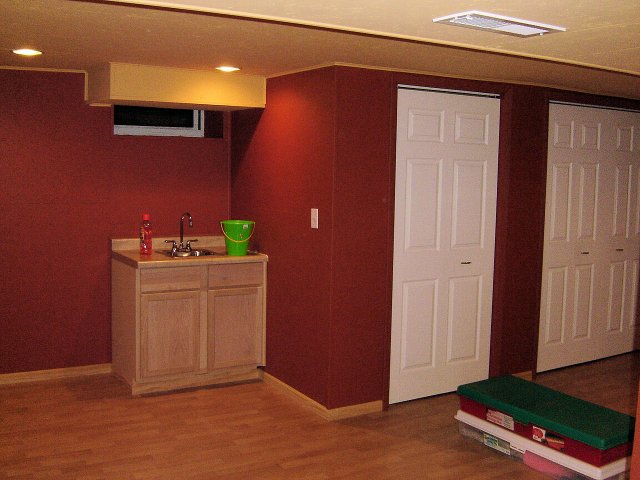 A sink provides us with a handy water source in the basement, and it's set up in such a way that it would be easy to carry the wall all the way across to create a half-bath.
This walled-off section houses the washer/dryer, as well as providing a storage room for our Christmas decorations. While it's not visible in the photo, an opening to the right of the washer leads to a semi-secret area under the stairs which we're using for additional storage.
My "office," which is really more of a hobby area. Actually, this doesn't look very different, except that we now have a real ceiling instead of a bunch of pieces of foam. Most important is that the area is now separated from the rest of the basement by a wall with a door, useful for locking the cats in with us in case of severe weather.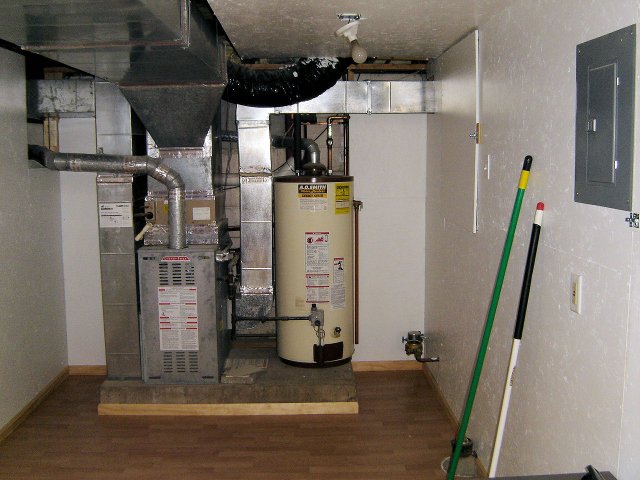 Not that exciting a photo, but here for completion's sake is the back half of the "office" area where the furnace is. This mostly involved finishing the walls, installing a door over the entrance to the crawlspace and putting up a partial ceiling.