Graphically Novel
With both DC and Marvel regularly releasing large collections of their old comics, there's fun to be had in taking panels out of context:
Hawkman and Hawkgirl receive a dubious honor from the leaders of an unfortunately-named planet.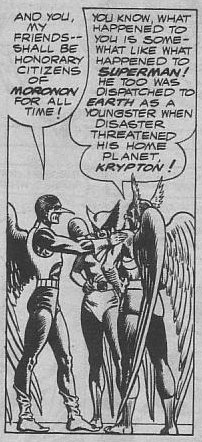 From Hawkman #11, 1965

---
And here's a nice piece of purple prose, courtesy Marvel writer Gerry Conway.
Or, as we call them, air conditioners.
From Marvel Team-Up #5, 1972

---
The following may be my all-time favorite comic-book caption.
I also relish a rock 'em, sock 'em rhubarb. 'Specially if it's in a pie.
From Justice League of America #47, 1966

---
Not really from a comic book, but here's Superman providing his own sound effects.
Little known fact about the Man of Steel:
He's also known to shout "Kapow!," "Phoom!" or even "Zort!" in the heat of battle.