31 Monsters #7: Jerry Dandridge
The first hint that Fright Night was not your typical scare fare was that it featured a vampire named Jerry. It was 1985, a few years before Jerry Seinfeld got his own sitcom, but long after Jerry the mouse emerged from his hole in the baseboard. That's my way of saying that Jerry was not a name typically associated with bloodsucking undead.
Fright Night predated Buffy the Vampire Slayer (the original film) by seven years, making it an early example of mixing horror and humor in a suburban setting. It was a high-concept premise: a teenage boy named Charley learned that his new next-door neighbor was a vampire. Recruiting the host of the local TV spookfest (the eponymous "Fright Night"), he set out to vanquish the creature before his girlfriend became a permanent member of the night shift.
Chris Sarandon–ex-husband of Susan and later Princess Bride cast member–played Jerry Dandridge for all he was worth. Seductive, sardonic and evil with a capital EEEEE, he was far more than a match for a dorky teen and an aging ham actor.
Dandridge was devilish fun, eating apples to keep his fangs clean and mercilessly taunting poor Charley. In one memorable scene, the teen's mom "introduced" him to the new neighbor…right in his very own living room. Charley already knew that Jerry was a vampire, and Jerry knew that Charley knew. What's more, they both knew that, according to the undead rulebook, the bloodsucker had just been granted a permanent invitation to the boy's house. In front of Charley's oblivious mother, Jerry teasingly suggested, "Of course now that I've been made welcome I'll probably drop by quite a bit…in fact…any time I feel like it…with your mother's kind permission of course…"
Now it must be said that, this being 1985, Jerry Dandridge was a bit disco. His big seduction scene with Charley's girlfriend Amy (played by Amanda Bearse, later a star of Married…With Children) occurred on a crowded dance floor. Thankfully the film avoided ironic references to "Staying Alive."
In the final act, Charley and movie "vampire killer" Peter Vincent (Roddy McDowell, playing an American analogue of Hammer Films star Peter Cushing) entered Dandridge's house to play "Fright Night…for real." Standing between them and Amy's soul was one particularly nasty vampire, his "live-in carpenter" Billy (a Renfield/quasi-vamp) and Amy herself, monstrously transformed into an orthodontist's worst nightmare.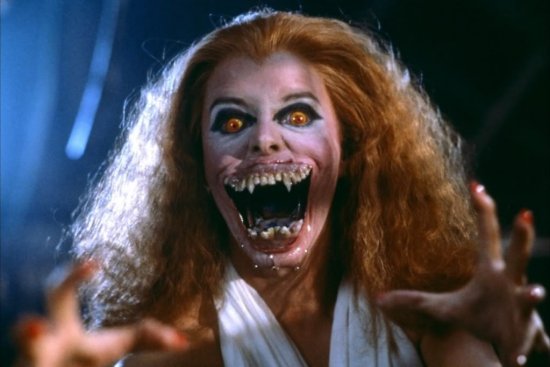 It's all tremendous fun, a scary, silly tribute to old-school horror with a knowing twist and excellent, pre-CGI effects. And, of course, Jerry Dandridge, smart-ass disco vampire.