Howdy, Pardner!
Got back from Dallas late Monday night. Our plane was delayed due to a missing flight attendant. No, she didn't vanish; she was just held up on another plane.
In general, it was a good trip. The bed at the Hyatt was phenomenally comfortable and laden with pillows. I didn't have a moment of back trouble while I was there. The conference itself was low-key and not as contentious as it has been in some years past. It didn't provide many opportunities to get outside the hotel, so we had to make our own. Still, aside from Dealey Plaza and a couple of blocks of restaurants, there wasn't much within a short walk.
The first day, I arrived very early and had some time to kill, so I spent a couple of hours hanging around the "grassy knoll" at Dealey Plaza. Depending upon whom you believe, that's the infamous location of the so-called "second gunman" in the JFK assassination. I sat on the steps and read a book while watching the conspiracists wander around taking photos, lining up purported rifle shots and examining manhole covers. There are always several guys hanging around selling booklets about the assassination, ready to waylay passersby with their tales of shadowy cabals and things the government doesn't want you to know.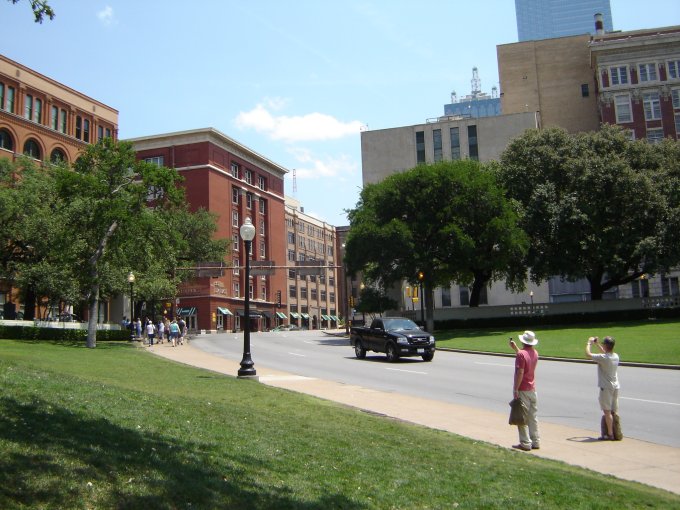 The plaza as seen from the knoll itself. The former book depository is on the left, though the sixth floor window where Lee Harvey Oswald was positioned is hidden behind a tree. That car is more or less where Kennedy's limo was at the time of the shooting.
Someone thoughtfully painted an "X" in the middle of the street at the point Kennedy was shot. People like to stand out there and pose for photos. No, I don't know why. Yes, it's a traffic hazard.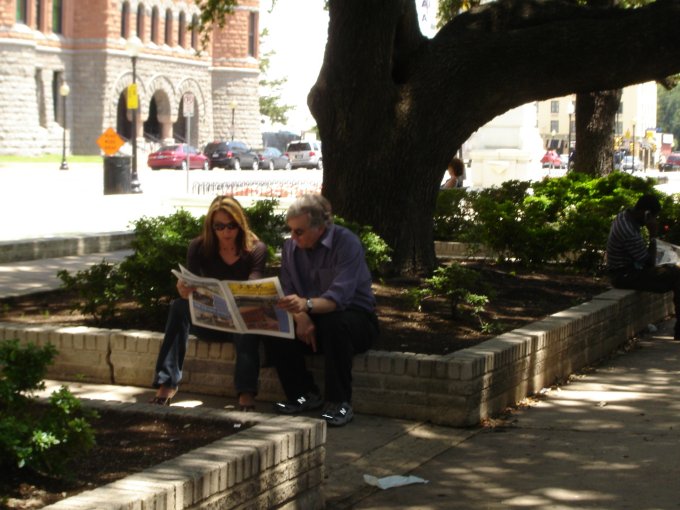 Tourists read one of the brochures for sale and look for the key locations in and around the plaza.
That night our first event was at Gilley's, which I'm pretty sure was not the real one from Urban Cowboy. They did have a mechanical bull which I did not ride. I did, however, wear the hat.
My travelling companions during my stay in Dallas included a couple of fellow PTV programmers. Right to left: me, Cindy, Cindy's friend Kathrin, and Sherri.
And here's me attempting to line dance. I have never found a hat in which I could not look like a dick.
The highlight of the stay (outside of that oh-so-comfy bed) was my dinner with the folks from HIT Entertainment, producers of Barney & Friends, etc. It was in the revolving restaurant above the hotel, and I had a wonderful, long conversation with one of their producers, who had some 30+ years of experience working in animation at Disney and Nelvana, and even worked on the first appearance of Boba Fett as seen in the infamous Star Wars Holiday Special.
I peppered her with questions about her career, and she was kind enough to answer, even after I inadvertently derided a number of the projects she worked on at Disney. I was commenting about the sad current state of Disney's traditional animation department, and how I felt that part of the reason for its decline was that the many direct-to-video sequels (Cinderella 2 and the like) had devalued the reputation of their theatrical cartoons. But it wasn't until after I'd opened my trap that I realized, to my horror, that she'd been an executive on many of those films. Blarg. For what it's worth, she didn't seem offended, nor did she disagree with my opinion.
Anyhow, it's good to be home at last, where I am unlikely to offend any ex-Disney executives.