A Rough Few Days
It was supposed to be a great couple of weeks. First my good friend Dave Lartigue was coming to town, then our Basement 2.0 was set to be upgraded to 2.1 with the addition of a big-screen TV. And I was topping it all off with a five-day weekend.
Things began to go awry on Wednesday evening, but we didn't know it yet. Our oldest cat, Cupid, has a nightly routine when it's time for bed: a lengthy snuggle/cuddle in which she repeatedly rubs her face on mine, then drops to her side and lets me rub her tummy. But that night she was nowhere to be seen. Nothing that unusual, we thought, as she occasionally breaks that routine for reasons unfathomable. When she still hadn't joined us in bed by 7:00 am, I had a good idea that something was wrong.
I found her in the closet, breathing rapidly and growling at my touch. We rushed her to our vet, and learned that not only was she having heart issues, but X-rays revealed a shadow in the vicinity of her lungs. As of this writing, we still don't know the nature of this shadow, though suggestions have included an abscess and–of course–cancer.
A great deal of grief ensued. Cupid has been with us for more than fourteen years: we got her a few months after Vic and I married, and we like to think that she was born on or around our wedding day. And it may be a cliche, but it's also true: she is a part of our family.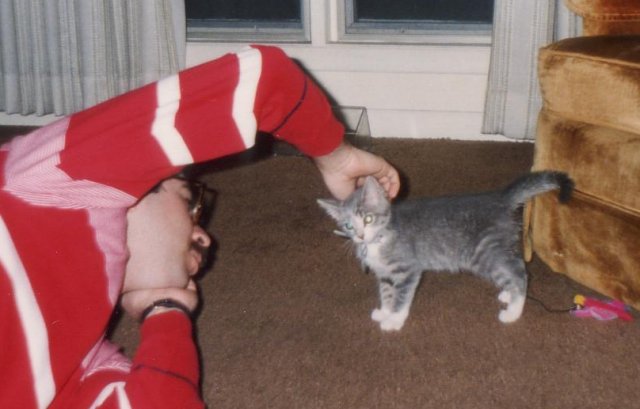 I'll spare all of us a lot of details, but we have spent the last several days in and out of pet clinics. We had attempted to hydrate Cupid on our own, but she refused to drink and we had to take her to the University of Illinois' Vet Med center.
She's been in their Intensive Care Unit the past couple of days, and her situation has improved. Her breathing and heart rate are back to normal, and she's started to drink on her own again. It's still too early to tell what her long-term situation will be, and there's still the mysterious shadow, which cannot be investigated until she's stabilized.
We're guardedly optimistic, as one of our other cats has similar heart problems but is still with us four years after we were told she had a few months to live. However, we know that we may have some difficult choices in the days ahead. Neither of us has lost a pet before, and if and when it happens, it will be devastating. Still (sound of knocking upon wood) we remain hopeful that Cupid's days of snuggling are not yet over.