Voodoo Zydeco Jambalaya
I've been in New Orleans since last Wednesday. Officially, I came here for a screening of potential new program acquisitions from the BBC. Stress on the word "potential," as WILL's financial situation is such that it's unlikely I'll be able to buy anything new this year. But, with most of the freight being paid by the BBC, it was a good opportunity to chat with my fellow programmers on someone else's dime.
It was also a good chance for Vic and I to put another notch on our ongoing effort to visit all 50 U.S. states. This year we've been able to mark off Maryland and Delaware in addition to Louisiana.
Vic flew down Friday to join me, and we'll be flying home together first thing Monday.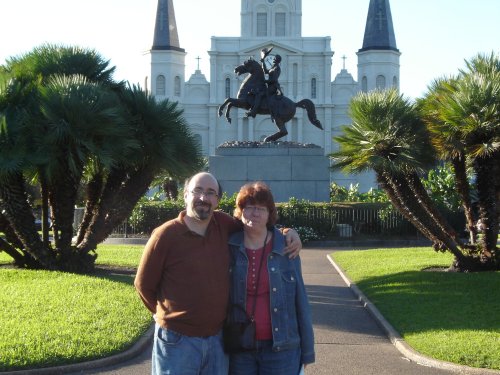 It's a good thing that we were able to get the hotel's convention rate for the vacation portion of our stay, because I would not have wanted to pay a dime more for the tiny, dark guest room from which I'm currently blogging. You remember all those jokes that start with "the place was so small…?" They were talking about this room. There's barely enough space for a bed, dresser, desk and side table. We have to squeeze out of the way just to close the bathroom door.
Things not equipped in this hotel room:
An alarm clock.
A smoke detector. (Oh, you can see where it was.)
A full set of towels and washcloths. (This was at least corrected after the first day.)
A window.
Oh, there's a window-like structure in the wall, complete with drapes. But the window treatment opens to reveal glass blocks. There's occasionally a light behind the glass, but it's not sunlight.
A positive aspect of this sensory deprivation tank in which we find ourselves is that we're actually getting very good sleep.
The other good thing about the hotel is that it's near most of the things we wanted to see. We were able to walk both to the museum district and the French Quarter.
Over the past few days I've begun to suspect that when naming a new business in this section of the Big Easy, one spins a wheel marked with the following:
Jazz
Voodoo
Gator
Blues
Crawdad
Gumbo
Zydeco
Creole
Jambalaya
Spin Twice!
Vic's summary of the French Quarter is that it's a 24/7 frat party. That goes double for Bourbon Street, a wretched hive of scum and villainy if I've ever seen one. It's wall-to-wall taverns, daiquiri bars and strip clubs, and the only restriction on open alcohol containers is that they can't be made of glass. They can be two feet high, but so long as they're plastic, you're good to go nuts.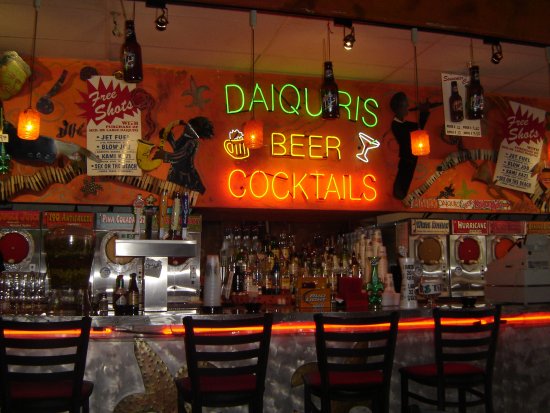 Another thing about the French Quarter is there's always something to see. Artists, street performers and card readers are everywhere. Parades break out for no reason. It's a constant bombardment of sight and sound, with hucksters standing three deep to get at your money.
Granted that this is not a typical time of the year, but still, when we saw someone in a plaid suit jacket and a skeleton mask walking his dog, we had to wonder: was it because it was the weekend before Halloween, or because it was Saturday?
Per the suggestion of pretty much everyone, we went down to the Cafe Du Monde coffee shop for beignets. "Beignet" is the French word for "fried wad of dough with a patently absurd amount of powdered sugar." And yes, they're very tasty, especially when hot. Patrons leave the Cafe Du Monde covered in powder and searching for their insulin needles.
The tourism industry likes to play up the supernatural aspects of the French quarter, and so it was that last night Vic and I took one of the so-called "haunted" walking tours. According to what I'd read, the company I chose was one of the more reputable, with an emphasis on history rather than boogedy. What actually happened was that our tour guide–who Vic immediately dubbed "Seth Green"–rambled his way through patter filled with phrases such as "of the undead persuasion" and "the most heinous acts they'd ever seen."
And then he took us to a bar. No, there was nothing haunted about the bar, though he cracked that it was one frequented by vampires. If that was true, then the vampires liked football and didn't have a problem with full-length mirrors. He might as well have said, "Next on our tour, here's a bar that I like…of the undead persuasion."
Really, there are so many of these "haunted" tours that at some of the more notable sites, there were three different groups standing on three different corners of the same intersection, telling more or less the same story about how the ghost of a headless vampire Civil War general butchered a hooker.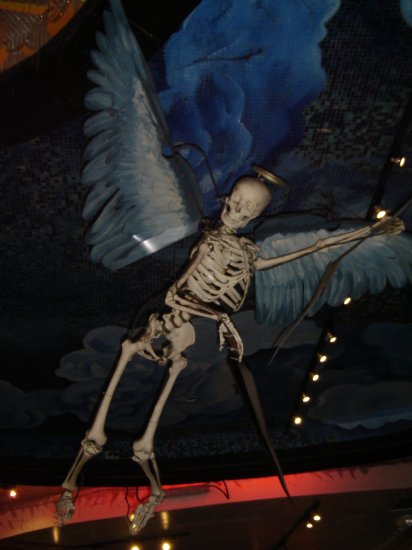 There are, of course, a number of voodoo-themed establishments. This afternoon I stopped in at the Voodoo Museum, which contains a couple of rooms of paintings and artifacts. Not the best organized museum I've seen, but interesting enough. It did help to clear up some of the more inexplicable elements of culture in and around the French Quarter.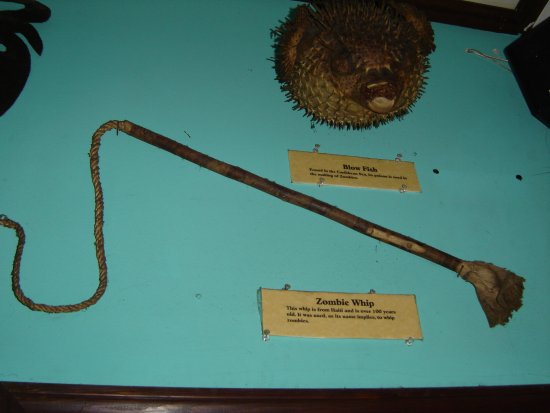 On the more serious side was the World War II Museum, which celebrates New Orleans' contribution to the war effort: the design and construction of many of the landing craft used at the beaches of Normandy. Now, while I knew enough about the broad strokes of WWII, there was a lot of new (to me) information about all of the planning and subterfuge necessary to set up a successful invasion.
To be honest, the experience left me a bit misty-eyed and wanting to give my father-in-law (who went to Normandy four days after D-Day and fought in the Battle of the Bulge) a great, big hug.
We also wandered the Garden District, where people richer than God live. I didn't learn about Nicholas Cage having a home there until after the fact, and so was unable to learn what little Kal-El was wearing for Halloween. (Cage also owns the most infamous of the "haunted" houses in town.)
While the homes in the Garden District are beautiful, the sidewalks are downright hazardous. Through some combination of the lack of solid bedrock, deteriorating historic brickwork and encroachment by tree roots, the walks in front of those colossal mansions are broken, pocked with holes and even upthrust. Vic and I look forward to getting home if only to be able to walk through a neighborhood without constantly worrying about breaking an ankle.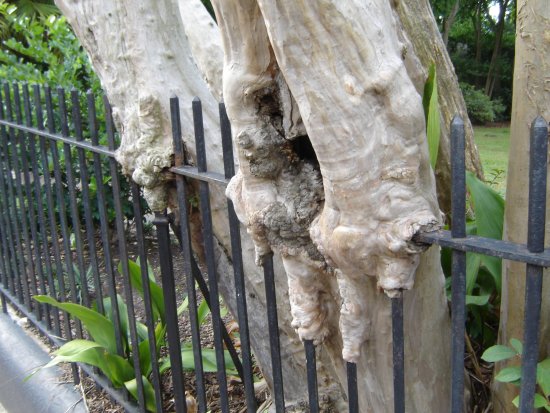 In the end, I was glad to have the opportunity to visit New Orleans, but I'm definitely not of the right temperament (read: "drunk enough") to live in a town where the party never stops, crawdaddigators run free and strings of beads grow naturally on trees.