What I've Been Up To
The last week has found me gone more often than not, due to my involvement in several WILL events. I've spent most of that time in costume, as either a monkey or an 1850s lawyer. Unfortunately, my attempt to merge the two–for a proposed pilot entitled Antebellum Monkey Law & Order–was met with skepticism.
Last week, the Curious George costume returned to WILL for another round of personal appearances at local events. Of all the various kids' show characters I've inhabited over the years–Cookie Monster; Purple Panda; Arthur the aardvark; Clifford the big, red dog–Curious George is my favorite. That's partially for the practical reason of having fingers instead of paws. George is also highly recognizable among the younger set, and I enjoy the unconditional love. Finally, as everyone knows, monkey = comedy gold. Pretty much anything one does in a monkey suit is going to be funny.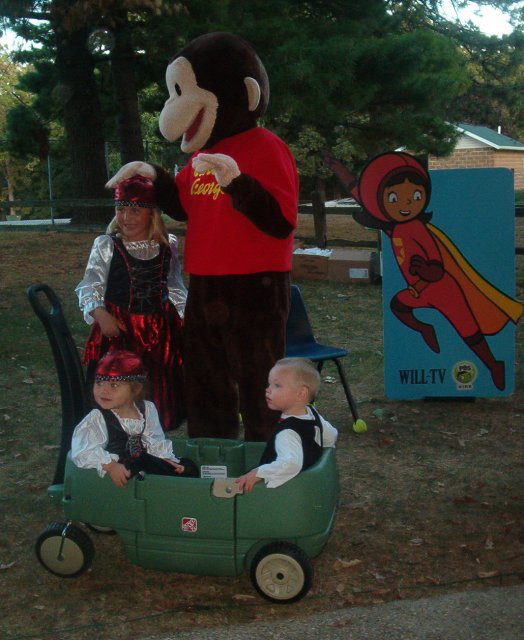 I spent a couple of nights last week at Decatur's Scovill Zoo for their Halloween-themed "Boo at the Zoo" nights. I'd never been to Scovill before, and I was surprised to find such a charming, little zoo tucked into Central Illinois. By the time I got out of the George suit to take a look around it was pretty dark, but the wolves and owls were active and that was pleasantly creepy.
For the past several days, I left behind the monkey shines and traveled back to the 1850s for a WILL documentary project on Abraham Lincoln's time working the 8th Illinois Circuit Court. We're shooting a number of segments for our Prairie Fire series, set to air in February 2009 to coincide with the Lincoln bicentennial, and I was asked to portray one of his fellow lawyers in the historical recreation sequences.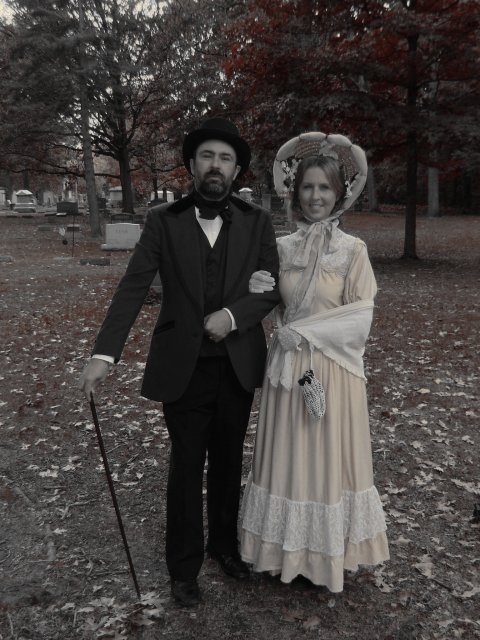 The location shoot took place at Funks Grove, a historic park a little south of Bloomington, with an old church standing in for a court house. We had a semi-professional Lincoln portrayer (a viable job here in Illinois, whose state motto is "Lincoln! Lincoln! Lincoln!") for the man himself, and every body we could dig up to stand in for the various lawyers and townspeople.
When the producers told me I'd be riding a horse, I was concerned. I'd been on one precisely twice before, excluding pony rides, and the first time did not go well at all. As a teenager, my dad and I tried one of those riding ranches during a Colorado vacation, and between my utter lack of horsemanship and my mount's stubbornness, it was either full stop or full gallop.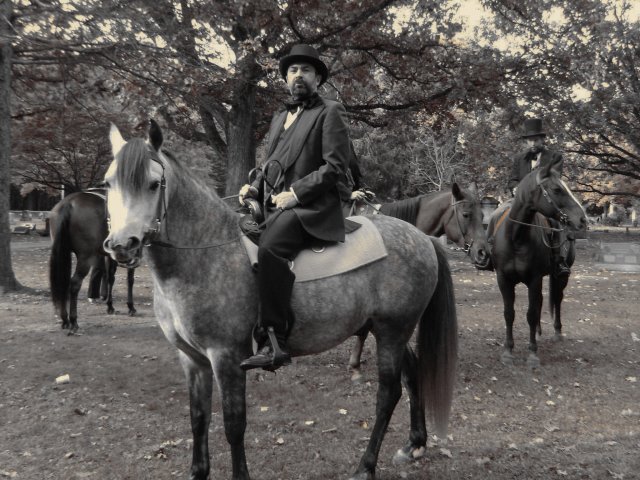 Fortunately, on this occasion the trainers took my reluctance and inexperience into account, and paired me with an easygoing Arabian. I had trouble steering her, but as long as she was following other horses I had little trouble. Well, there was the time when Lincoln got way out in front and she took off at what was probably a modest canter but felt like full steam ahead while I clung on trying to remember the word "whoa."
After three hours on horseback the first day–my stay atop her extended so that I could appear more comfortable in my riding posture–I was in a fair amount of pain that evening. They're really not kidding about "saddle sore."
Yesterday I wound up with a different horse, one which I found much easier to steer. We had to do a number of group passes in front of the "court house" for a crowd scene. By the time I had to dismount, I was surprised to find myself rather comfortable and even disappointed that I was done riding. It was a good feeling to know that I had done something well outside my comfort zone and even managed to do it pretty well.
I'm back in the office today, but I enjoyed my time in land of Lincoln. Maybe next time we can find a way to work in Curious George.