Max Headroom M-m-mondays #11: Whacketts

Continuing my weekly look back at 1987's Max Headroom series.
"Whacketts"
Written by Arthur Sellers and Dennis Rolfe
"Why bother to save television sets? They're given to the needy."  –Murray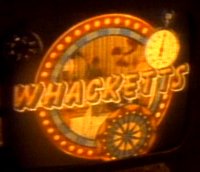 The Story: In the aftermath of a building collapse, tenants ignore fellow victims in favor of an addictive television game show named "Whacketts." A disgraced former network sales executive is using BigTime TV to market test a "narcotic" signal embedded within its program. Max Headroom is exceptionally susceptible to its influence and threatens to spread it to a global audience.
Behind the Screens: Talk-show host and comedian Bill Maher makes an early acting appearance as the villainous Haskel. He sports a tiny, evil ponytail.
"Whacketts" is in reality an episode of a Puerto Rican variety/game show called "Super Sabados." Apparently it aired for five hours straight each Saturday evening, which suggests that it may have had its own narcotic effect.
The addictive signal triggers the release of endorphins in its viewers, leading to feelings of extreme pleasure. Max Headroom doesn't have a pituitary gland, but being an "electromorph" somehow makes him even more vulnerable.
When Network 23 chief Ben Cheviot sees the enormous ratings spike enjoyed by BigTime TV, he orders his team to determine the appeal of "Whacketts" and have a clone on the air within an hour. The enterprise is sidetracked when Max bootlegs the actual show and overrides 23's signal.
In the series' oddest pairing, Network 66's venomous Ned Grossberg (Charles Rocket, once again furiously twitching his neck) takes Dominique on a business dinner date. Rocking a huge feather boa and some serious cleavage, Dom proves a shrewd negotiator.
The Ratings Report:
Theora's Level of Concern

How Minutes Into the Future Is This Now?
The unfortunate Metrocop Lt. Ziskin, who winds up at the bottom of an elevator shaft after confronting Bill Maher and his stubby ponytail, has a nifty video wristwatch which plugs into the station's computer bank via a retractable cable.
We finally learn a bit about the regime in charge. There's a reference to a "global government." And Cheviot reports to something called the "World Broadcast Governing Body."
video narcotics  +4 minutes
Dick Tracy wristwatches  +1 minute
= more than 20 Minutes Into the Future