Forry's A Jolly Good Fellow
One thing that I missed during my recent spell of gastrointestinal distress was the passing of uberfan Forrest J Ackerman last Thursday. Ackerman could've laid claim to a significant place in pop culture history for several reasons. He coined the term "sci-fi." As a literary agent, he represented Ray Bradbury, H.P. Lovecraft and L. Ron Hubbard. (I'll forgive him that last one.) Most importantly, for some 25 years he edited the preeminent newsstand magazine devoted to sci-fi, fantasy and horror, Famous Monsters of Filmland.
Forry and me, circa 1986.
The cheaply printed black-and-white mag was chock-full of terrible puns and rare photos from unheard-of or forgotten feature films. In the days before VCR, DVD or IMDB, Forry offered tantalizing, sometimes frustrating glimpses of horror flicks a young fan would've likely had to stay up until 3:00 am to watch, if they aired on TV at all. Famous Monsters inspired a generation of fantasy filmmakers, including a couple of guys named Lucas and Spielberg.
Forry was always approachable to his followers. Once, when I was in college, I called his home and left a message. (His phone number was an open secret.) It blew my young mind when he called me back and talked for what may have been a half hour. On his dime.
Perhaps the most remarkable thing about Forry was the fabulous "Ackermansion," his house in the Hollywood outskirts in which resided a massive collection of novels, photos, movie posters and props. On most every Saturday afternoon for many years, Forry held an open house in which fans from all across the world visited to stumble in slack-jawed awe through the detritus of decades.
Inside the Ackermansion. Items depicted include a satellite from the movie Meteor, the Seven Faces of Dr. Lao, and the tattooed body of The Illustrated Man.
Now, truth to tell, I was a little dismayed at the condition of the some of the items on display when I made my first pilgrimage in 1986. Forry's wife Wendayne was still alive, and she requested that the collection stay in the basement. As you might image, it was not exactly climate-controlled. Unique items from filmdom's history, donated by Forry's many industry friends, were scattered and strewn about the place, fondled by fanboys.
Several miniatures from Ray Harryhausen's 20 Million Miles to Earth.
Forry would hold court, regaling his people (and I still count myself among them) with stories of Bela Lugosi and Boris Karloff. I'm sure that he loved the attention, but still, one has to appreciate the commitment and willingness to share.
During my year in L.A., I had a couple of significant encounters with Forry. I once had lunch with him, though I'm pretty sure that the reason he invited me had more to do with my roommate at the time, a young woman named Margo who was a big Lugosi fan and had communicated with Forry for years. Forry was hailed as the Hugh Hefner of sci-fi, and I think that wasn't entirely due to his magazine publishing interests.
Later that year, my friends and I crashed his 70th birthday party. Yes, we were the sort of people who did that sort of thing. Granted, at least one of us (not me) had an actual invitation, and no one questioned the others when we arrived at the hotel bearing his gift: a life-sized, head-and-shoulders bust of Charles Laughton as the Hunchback of Notre Dame. I wound up at a table with Bela Lugosi, Jr.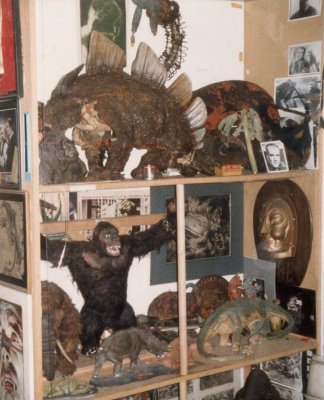 The stegosaurus up top was an original animation model from the 1933 King Kong.
I talked to him a few more times in the 20 years since I left L.A. I even took Vic on the journey to the Ackermansion once.
The last time I spoke to Forry was perhaps four or five years ago. Medical and legal bills had forced him to sell his house and much of his collection, and he'd moved to a smaller abode. (He still had his regular open house, though.) At the time, I was occasionally filling-in as a host for WILL-AM's interview shows, and I'd hoped to schedule Forry for an hour of chat. For whatever reason, it never happened. I'm sorry about that. It would've been fun to have him share his tales with our Central Illinois audience.
I doff my skull-cap to you, Forry. Whatever I am today I owe in at least some small part to you.