Shock Treatment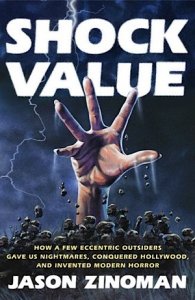 Once again it's that time of year when WILL-AM's regular radio hosts go on vacation and I have the opportunity to take over the microphone for an hour. Tomorrow (Friday, September 16) at 11:05 am Central Time, I'll be interviewing Jason Zinoman, author of the film history Shock Value.
The book recounts how horror movies, once epitomized by Gothic castles and Vincent Price, gave way to zombies, stalkers and cannibals in a disorienting mix of the fantastic and the mundane. The late '60s and early '70s gave us George Romero, John Carpenter, Wes Craven and Tobe Hooper, who collectively took fright features out of the realm of kids' stuff.
If you're not in WILL-AM's Central Illinois coverage area, you can listen online. If you miss the live broadcast, it'll be in our archive. And we'll be taking listener questions; call in during the show at 800-222-9455.
Reading the book (which I recommend) I was struck most by one thing: the revolution Zinoman describes began in 1968 with the dual releases of Rosemary's Baby and Night of the Living Dead. What he terms "modern horror" is now 43 years old…