Party Like It's 1999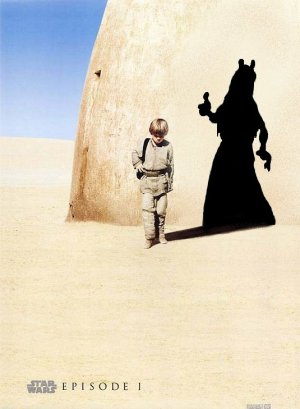 It's weird going into Toys 'R Us these days. I'm confronted with an enormous Star Wars display. It's eight feet high and fifty feet long, and brimming with Phantom Menace-branded toys. I'm having a serious case of deja vu hearkening back to May 3, 1999: the date when every warehouse, henhouse and outhouse in America was overrun by plastic Jar Jars.
This time there are few if any gangly Gungans in view, yet the wall of Darth Mauls and Qui-Gon Jinns remains an unsettling echo of those last sunny days of the 20th Century, before the Star Wars Generation experienced the Great Disillusionment.
It's hella strange to see this second wave of Episode 1 hype, brought about by the film's forthcoming 3D rerelease. It's as we've all collectively forgotten about the Jar Jar Candy Tongue Dispenser Memorial Landfill. Everywhere you look, there's a facet of a blissfully unaware media campaign marketing the fuck out of a movie that people didn't like very much the first time around.
Oh, I wish I could pretend that I'm immune to it all. It's still a kick to see kids oohing over the toys from a Galaxy Far, Far Away. And don't think I didn't buy that Ben Quadrinaros action figure. Or that new novel about Darth Plagueis, the Sith Lord responsible for training the future Emperor Palpatine.
Those of us who have failed to learn from galactic history are doomed to repeat it.