North, Miss Teschmacher! North!
Today we take off for the Great White North…east. It's our first trip to New England, part of our ongoing quest to visit all 50 states. This time we'll knock off Connecticut, Rhode Island and Massachusetts, plus one or two others along the way.
We're excited for a number of reasons. First, because we get to visit our good friends Dave, Becky and Beebo (guess which one is the dog) in Massachusetts. Second, because we're going to spend a few days in a Rhode Island bed and breakfast. (Check out Room One, where'll we be bedding, if not breakfasting.)
Third, because we'll be going in this:
It's my very first new car, a 2005 Prius hybrid! We just got it last night, and I'm so happy! I've always bought used cars in the past because that's what my dad always did. But I have to admit, there's nothing quite as pretty as a vehicle with only five miles on the odometer…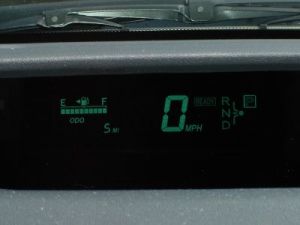 The image to the right is the instrument panel. Thankfully, I had someone from the dealership with me when I test drove a Prius, or else I'd still be sitting there trying to start the car! That freaky knob on the lower edge is the gearshift. Both the ignition and the parking gear are push buttons, and functions such as the audio and climate systems are handled via the touch panel screen. Plus, our options package included a "smart key" so that I just have to have the key on my person to unlock the doors, start the car and drive off! NEAT!
Just had to share before we skedaddle…take care while we're gone!