There And Back Again
Vicky and I usually attempt to take one big trip per year, and although we haven't always managed to do so, this year we were able to knock four more states off the list of those we've yet to visit. Here's an account of our New England vacation.
Day 0 – In Which Chick-Fil-A Is Eaten
We left work a couple of hours early Thursday afternoon with the intention of getting partway through Ohio that first evening. Unfortunately, the time we'd spent buying my new Prius the night before was time taken away from packing, and we still had some work to do.
As one of the places we'd be visiting was Providence, Rhode Island, hometown of my favorite horror writer, H.P. Lovecraft, I thought it appropriate to bring my cuddly, plush Cthulhu along for the ride.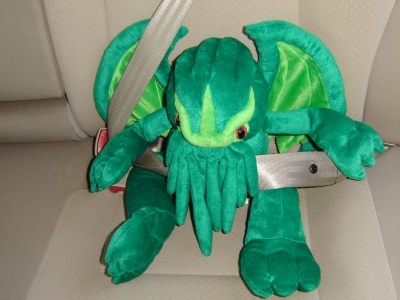 Even an eldritch horror needs a seat belt!

So, at 4:30 pm, a man, a woman and a cephalopod hit the road in search of adventure!
Our first stop, in Indianapolis, was perhaps one of our most important. You see, some years ago we had discovered the joys of the fast food chain Chick-Fil-A. Our friend Chris used to go on about it, but I could never understand how a chicken sandwich could be a big deal. Then we visited him and his wife Christine in South Carolina, and we were introduced to the supreme succulence which is the Chick-Fil-A. Maybe it's the combination of spices, maybe they spike the Diet Pepsi, but yes, it's that good. Unfortunately, Chick-Fil-A is rare in Illinois, and the closest is in Indy. And, since we'd be passing through Indy…
The Promised Land.

One happy sandwich later, we set off for Ohio. Unfortunately, there was a terrible traffic jam, and we failed to meet our planned goal of Columbus, stopping for the night in Dayton.
Day 1 – We're Driving, We're Driving…
Friday was the day we'd set aside for driving, and I certainly did a lot of it. We had to get from Ohio to Massachusetts if we were to arrive at the home of our friends Dave and Becky, with whom we'd be spending the next couple of days.
The Prius turned out to be as good as advertised, getting an average of 48-50 miles per gallon over the course of the trip. I was a little sad about putting so many miles on my first new car only a couple of days after purchasing it, but it seemed silly to leave it at home, given that we'd bought a hybrid for just this sort of occasion.
We quickly discovered that owning a Prius makes one part of some sort of secret society. Other Prius owners would honk and wave as we passed on the highway. Even a Honda Civic hybrid waved at us, though the girls in that car looked as though they might wave at anyone.
What I remember most about this leg of the journey were trees. Lots and lots of trees. Yes, that's better than the flat soybean fields of Illinois, and yes, it's nice to know that there are still huge forested areas in 21st century America. Still, all through Ohio and Pennsylvania, there wasn't much to look at other than mile after mile of trees. And so the day stretched on.
By late afternoon, we'd reached the entrance of the New York Turnpike, and immediately discovered that New York drivers are bugfuck nuts. While waiting in line at the toll booth, we watched as several vehicles decided that this would be an excellent place to make a U-turn. We were grateful that we'd be getting no closer to New York City.
Evening turned to night, and as we hit a particularly dark stretch of the Massachusetts Turnpike, a torrential downburst brought traffic to a crawl. We began to wonder if we'd ever reach Dave and Becky's. But not even Hurricane Dennis could keep us from our destination, and we arrived about 10:00 pm.
At 12:00 am that night, children across the Eastern Seaboard cheered as the new J.K. Rowling book, Harry Potter and the Half-Pint of Milk, was officially released into their hot, Muggle hands. Elsewhere, we slept.
Day 2 – Elephant Stampede
It was great to see Becky and Dave again. They'd moved to Springfield, Massachusetts and bought a big, old house. Being much more industrious than us when it comes to home repair, they've fixed it up into just the sort of place in which one would expect to find a college professor like Becky. (Though one might not also expect that one's professor had dyed her hair Run, Lola, Run red for the summer, as Becky had!)
They spent the day showing us around the area, and the first place we visited was the Dr. Seuss Memorial Sculpture Garden. It was quite charming for the most part, but as you can see from the photo below, Horton became belligerent and ultimately had to be put down.
The Whos down in Whoville were horrified.

We checked out some dinosaur footprints, enjoyed a mountaintop picnic and generally had a pleasant day.
Day 3 – Freedom Is Just Another Word For Nothing Left To Lose
On Sunday, Dave and Becky took us to Boston. We hadn't really had much in mind when we'd mentioned wanting to go there; as neither of us is into Colonial or Revolutionary era history, "Boston" was more of a concept than a concrete plan. Thankfully, the Lartigues were there to be our tour guides. However, in a cruel twist of fate, it seemed that every place that Dave tried to take me was either closed Sunday or had gone out of business. It rapidly became a running gag.
We wandered through the downtown shopping area and walked a portion of the "Freedom Trail," reminiscing about the days when freedom was an honest ideal rather than an example of Orwellian doublespeak. And then I rode a donkey.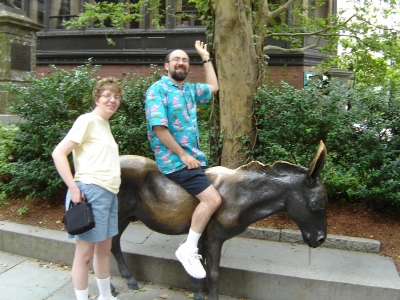 Vicky and two jackasses.

Having gotten my wacky photo op for the day out of the way, we pressed on to the massive Christian Science center (aka The Mary Baker Eddy Library for the Embiggenment of Humanity) to view the so-called "Mapparium." It's a three-story glass globe constructed in the '30s picturning the then-current world. Guests are taken onto a bridge through the middle of the spherical room, looking at Earth from the inside out. It was really rather nifty, though the accompanying audio presentation was overdone. There was also a clever "Hall of Ideas" with a central fountain in which concepts and famous quotes would appear to swirl up out of the center and float serenely in the water before vanishing again. I personally watched "progress" go down the drain.
I'm really not sure how to feel about my brush with this tribute to Christian Science. On one hand, it's nice to see a religion which so freely celebrates science and ideas from many cultural perspectives, though I noted that their presentations served to award Mary Baker Eddy the same legitimacy as Gandhi and Martin Luther King. Yet, it's hard to give much credence to a movement which prefers faith healing to modern medicine. According to an informational pamphlet, Eddy's ill health caused her to seek out unsuccessful "cures" of her 19th century world, and this ultimately led her to develop her own "healing system." Now, I have no doubt that there were plenty of dodgy remedies 150 years ago, but folks, we've come a long way since then…
We stopped by Boston Harbor, where Vicky comtemplated buying a tea bag in order to dunk it in the water. It would've made a cute photo, but we never got around to it. Finally, after a long day of sightseeing, we took the train out of the city.
Becky and Dave learn to never fall asleep in front of a man with a camera.

Day 4 – It's Scary!
On Monday, we said our goodbyes to the Lartigues and set off for Salem. Salem is famous for not having witches, though that didn't stop them from hanging nineteen men and women for alleged witchery, and–just to prove you shouldn't piss off someone named "Cotton"–pressed an old man to death under heavy stones.
Naturally, this paranoid murder spree makes for good tourism, and therefore every flat surface in Salem is plastered with images of witches and black cats. Not even the police cars are hag-free.
Typical Salem store window.

Funny thing is, there was a minor controversy a few weeks ago when the cable channel TV Land installed a statue of Bewitched star Elizabeth Montgomery smack in the middle of town. Somehow, a rather tasteful sculpture of a television witch was going to cheapen Salem's historic image of hysteria and persecution.
Hurricane Dennis (or was it Emily?) pelted us while in Salem, but the sun came out just when it came time for us to take a photo with Samantha Stephens. Hmm, could it be that there's something to this witchcraft after all?
The horror!

Another funny thing is that Salem has gone from a city without witches to one which, if the number of magic(k) shops, psychics, aura readers and such is any indication, is now cauldron-deep in them. Could it be that Cotton Mather was right? Time for a hangin'!
Next on the itinerary of scary New England was Providence, Rhode Island. It's a beautiful college town full of breathtaking architecture, but the main draw for me was the opportunity to visit a couple of H.P. Lovecraft's haunts. During a short walk near the Brown University campus in which the non-Euclidian geometry meant that both directions were uphill, we saw Lovecraft's final home, as well as the building which served as the inspiration for his short story "The Shunned House."
To be honest, it doesn't look so shunned these days.

We also dropped by nearby Swan Point Cemetary so that plush Cthulhu and I could pay our final respects. Granted, posing a stuffed animal atop a grave marker may not be the most respectful act, but I suspect H.P. would've been amused.
Cthulhu meets his maker.

Next, we were off to western Rhode Island in search of the bed-and-breakfast in which we'd be staying the next three nights. Some might consider it odd that this had been my idea, as among my dislikes are froofy decorations and talking to strangers, neither of which is avoidable at a B&B.
By the time we arrived, the Rhode Island landscape had been washed out by thick fog, which made navigation difficult. We drove right past the restaurant which had been recommended by the B&B owner, and so wound up wandering lost in the endless gray.
Soon, just when it seemed we might have to resort to cannibalism to survive, out of the mist there came a welcome sight: a seafood restaurant called "The Cove." The stuffed shrimp were great, and I had the second of several bowls of clam chowder I would enjoy while in New England. Still, I was troubled by the unhealthy pallor of the wait staff, as well as by the slightly sinister way in which they said, "We'll see you again…soon." The next day, when the fog had partially lifted, we returned to the spot where The Cove had been, but all we found was a tumble-down shack. An old women sat in a rocker out front, and croaked, "The Cove? Why, that burned down…FIFTY YEARS AGO!!!" And then she laughed, and laughed, and laughed…
Okay, maybe I made up some of that. But the chowder was good.
Day 5 – People With Too Damn Much Money
On Tuesday, our itinerary ran more to Vic's taste, as we went to the coastal community of Newport, Rhode Island. The town is known for the spectacular summer homes once inhabited by the annoyingly wealthy.
Our first stop was the Astors' Beechwood Mansion. The folks who owned the Astor house must've realized that they had one of the less spectacular mansions, and compensated by hiring costumed actors to conduct tours in character. I enjoy a bit of theatricality, and I have to admit that cute girls in period clothes made the visit much more enjoyable.
What can I say? To each their own kink.

Next, we toured The Breakers, a 70-room "villa" built for Cornelius Vanderbilt. Keep in mind that this building would be inhabited no more than two months of the year, and you get some sense of the colossal wealth and excess on display. As I noted to Vic, Vanderbilt really had it on for "The Four Seasons," as virtually every room we visited was said to have been decorated in that motif. Geez, Corny, couldn't you come up with any other ideas? The Seven Seas? The Three Blind Mice?
Then it was on to the International Tennis Hall of Fame, in which I learned that the sport was enjoyed by Eleanor Roosevelt.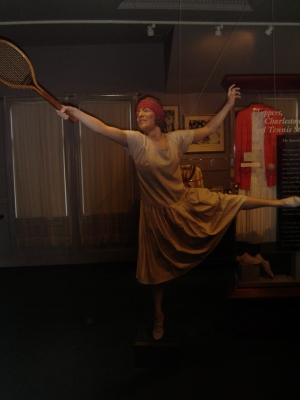 Alright, perhaps that's not Eleanor Roosevelt. It was actually some tennis player of which I'd never heard, which is surprising as I'm married to a tennis fan.
Finally, we set off for something called "the cliff walk," which was reputed to be a 3.5 mile trail meandering along beautiful cliffsides. When Vic first mentioned the idea, I said, "Is the 3.5 miles up the side of the cliff?" You see, we have a history of ill-advised "death marches" which turn out to be much more treacherous than expected, including a Rocky Mountain trail hike during which Vic infamously suggested walking to the next lake, which was "only 0.7 miles away"…up what turned out to be a steep incline of broken stone.
My feet were already tired from a day of standing around mansions, but I was willing to go for it. And the beginning was pleasant enough, a smoothly paved route that was perhaps a bit less scenic than advertised. A mile later, we noticed that the pavement gave way to a dirt trail, which became narrower as we walked. (Admittedly, this is also where the view became more interesting.) Suddenly, the path ran out…or rather, it turned into a "trail" across an intimidating set of flat, black boulders overlooking the surf. Shortly thereafter, we encountered two things: a pair of defeated hikers coming from the other direction (which they said was even worse); and an exit to the road. With two miles to go, guess what we did? It was the first time we'd left a "death march" uncompleted, but I cannot help but think that we, for once, did the smart thing.
That evening, we found the restaurant that we'd passed in the fog the night before, and had the best meal of the trip: expensive as hell, but the seafood was absolutely delicious.
Day 6 – Not The Razor
As I've pointed out, one of the problems with a bed-and-breakfast is that you have to talk to people. That morning we met a family which included a kid with a terrible case of facial poison ivy. The proprietor asked the parents if they'd tried using steroids to clear up the rash, to which they replied that no, they wanted to avoid those, and would instead be using a homeopathic remedy. I wanted to grab and shake them: "So, what you're saying is that you'd rather use something that DOESN'T FUCKING WORK?!?" I felt very sorry for the miserably itchy boy with the blotchy face and the dumbass parents.
We were starting to run out of things that we'd planned to do, so Wednesday wound up being kind of low-key. We went into Connecticut to visit Gillette Castle. This was the former home of actor William Gillette, who made a ton of money playing Sherlock Holmes near the turn of the 20th century and did what any sensible person would do: build a castle on a river hillside.
I was perhaps one of only a small number of people who'd heard of Gillette (who, as the tour guide emphatically pointed out, had nothing to do with the razor company) prior to visiting the castle, thanks to my stint with the local Sherlock Holmes society. I certainly enjoyed his style, which included intricately carved wooden doors with elaborate bolts, and cleverly placed mirrors which allowed him to see who was at the entrance or trying to get into the liquor cabinet from the security of his bedroom door.
On the way back from the castle, I decided to take the conveniently placed ferry across the river. In part, there was the practical goal of saving us from a lot of winding backwoods road, plus…hey, ferry! My car was less than a week old, and already it was taking its first boat trip!
Doesn't it look happy?

Lunch was at a clam shack/ice cream stand with the unfortunate name The Sea Swirl. I hadn't had fried clams since I was a kid eating at the Howard Johnson's restaurant, and they were quite good. There were also a couple billion ice cream combinations, and after enjoying both seafood and snack, neither of us was interested in dinner.
The rest of the day we spent tooling around the beach towns near the B&B, and eventually took an early evening walk through the surf.
By this point, we'd decided that we could finish up what little we'd still planned to do on vacation the next day, and even get a good head start for home. So, we packed for the return trip, and went to bed…
…only to be awakened at some unknown time in the middle of the night. I'd heard what sounded like our Maine Coon cat trying to get our attention by rattling around, which was odd since he was currently 1,000 miles away. I ran to the window, already suspecting what I might find, based on a conversation we'd had with the owner earlier in the week.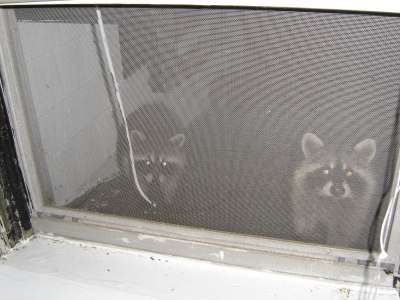 Raccoons!

There were three of them right outside, staring back at me. They were very cute, but just the same, I was grateful for the screened window. As you can see, I managed to get photos, though it was hard to aim the camera in the near-pitch blackness. We watched each other for a couple of minutes, and then I went back to bed. Eventually, they gave up our window and looked elsewhere for raccoon fun.
Day 7 – This Way To The Egress
Thursday morning, we bid the bed-and-breakfast adieu and set out for Connecticut. First stop was New Haven, home of Yale University. That's where the character Rory Gilmore from Vic's favorite TV show, The Gilmore Girls, goes to school. It's also, Vic ruefully noted, the real-life alma mater of George W. Bush, but that didn't stop her from buying a T-shirt.
Next came Bridgeport and the Barnum Museum. I didn't get any pictures of this, partially because there was no photography allowed inside the building, but mostly because it wasn't very interesting. They performed quick a trick: taking the fun out of P.T. Barnum, and treating a man who lived on hype and humbuggery with a dry, studious tone. Where were the flashing lights, the outrageous lies? They did have a mock-up of the infamous Feejee Mermaid (a monkey torso sewed to a fish tail), as well as entirely too many of General Tom Thumb's tiny chairs. And at least they had (for I would've been crushingly disappointed if they hadn't) a sign on the exit stairs stating "This Way to the Egress."
On that note, we began the long journey home. As we'd done two years prior during our trip to South Carolina, we picked up the new Harry Potter book, Harry Potter and the Half-Baked Sequel, and Vic began to read aloud as I drove. Halfway into Pennsylvania, we stopped for the night at a nice Comfort Inn where we got a government employee rate and a whirlpool tub!
Day 8 – The Voyage Home
Friday we got an early start. Vic continued to pass the long, tree-filled drive through Pennsylvania with further readings from Harry Potter and the Contractual Obligation.
There was one last side trip before we reached Ohio, as on the way to Dave and Becky's a road sign had caught my eye, and I was determined to investigate it on the journey back. It was a few miles (okay, 18) off the highway, but finally we arrived in Greenville, Pennsylvania, and the campus of…Thiel College.
A college by any other name would not smell as sweet.

Thiel College turned out to be a sunny, little Liberal Arts school tucked away in the middle of nowhere. I found the campus bookstore and bought a couple of shirts and yet another magnet. (My refrigerator is covered in vacation magnets; I picked up six on this trip.) While I thought that the cashier might find it odd that I was buying paraphenalia from a school about which I knew nothing, she said that they get many similar orders from other Thiels via their website.
With nothing else left on which to waste time, we drove through Ohio, and on into Indiana, which meant only one thing:
Yes, it was just as good on the way back.

We arrived home at 8:00 pm with a trunk full of souvenirs to be greeted by several confused cats. We still had another 100 pages left of Harry Potter and the Hookers of Hogsmeade, which we finished reading that night…
…but that's a story for another day.