The Man Called Bruce
As a card-carrying geek–it's true, they issue cards–it should be no surprise that I am a fan of cult favorite actor Bruce Campbell, chin-some star of the Evil Dead films, the Elvis-meets-a-mummy flick Bubba-Ho-Tep, and the late, lamented TV series The Adventures of Brisco County, Jr. Even if you still don't know whom I'm writing about, odds are you've probably seen him at some point, as he tends to pop up in numerous small roles: Congo, The Hudsucker Proxy, the Spider-Man films and the current Disney flick Sky High. For many geeks, Bruce is the man, a wise-ass, dumb-ass, ass-kicking action hero who has embraced his B-movie roots and accepted his fate as a second-tier performer whom is beloved by many but unheard of by most. His autobiography, If Chins Could Kill, was a surprise best-seller.
Campbell first came to my attention back in 1986, when the second of the Evil Dead films was released. I'd seen the original, but dismissed it as a cheap, schlocky gorefest. However, I wound up attending a midnight screening of Evil Dead II at a Westwood, Los Angeles theater with some horror-movie-fanatic friends who decided to go in full-on zombie makeup. Bruce was there in costume as undead-fighter "Ash," and the publicity folks were so thrilled by the opportunity to snap a few shots of him surrounded by fannish undead that they asked us to stick around. Unfortunately, no one had saved seats for us, so when we were done meeting Bruce, we were left to shuffle aimlessly through the auditorium while suffering the taunts of the rowdy audience. Ultimately, we never did see the film that night, and wound up going to another screening a few days later…without the zombie get-up.
Yes, I am in this picture.

I was greatly impressed by Evil Dead II, which benefitted from a larger budget, breathtaking camera tricks, a slapstick approach to horror, and one of the all-time great "fuck you" movie endings. Furthermore, I was fascinated by Campbell's manic performance. I said, "The guy will never be a great actor, but I bet even Sir Lawrence Olivier couldn't simultaneously portray himself and his own evil, possessed hand!" While I was later to discover that Bruce is a solid performer–look at his surprisingly nuanced role as an aging Elvis in Bubba-Ho-Tep for proof–nothing he's done has struck me so much as the scene in which his evil hand repeatedly propelled him into kitchen cabinetry and smashed plates over his head.
The reason I bring all of this up is that last night, I had another opportunity to meet Bruce in person, at the Avon Theater in Decatur for a screening of his new film, Man with the Screaming Brain. Not only did Campbell star, he wrote the screenplay and made his feature directorial debut. And while it's set to air on the Sci-Fi Channel in the not-too-distant future, the opportunity to see a new Bruce Campbell film on the big screen with Campbell himself in attendance was too good to pass up.
Arriving at the theater, I ran into my gaming buddy Muncher (his real name), his friend Cory, and Cory's fiancee Mary. Cory and I appeared to hit things off very well, and soon we were engaged in an escalating game of "Who Can Make the Geekiest Reference?" (This is a game in which there are only losers.) It got so bad that Muncher and Mary made us sit together in the theater so that they could carry on a conversation that they understood. As someone who has experience with a non-geek spouse, I complimented Mary on her courage in marrying into the geek world.
The autograph line ran very smoothly, and although there were approximately 100 people ahead of us, it only took about an hour before I was able to approach Bruce Almighty's table. Now, it must be said that while Bruce embraces his fans, he has an odd, quasi-adversarial relationship with them, and it's not uncommon for the two parties to trade smart-ass comments and/or insults. With that in mind, I deliberately maligned his previous Sci-Fi Channel film, the absolutely unwatchable Alien Apocalypse: "I have to say, I really like you, but if they ever approach you to make Alien Apocalypse II, run." To my glee, he called me "Mr. Fancy Pants," and then pointed out that it had been SFC's highest-rated original film ever. (This is true.) Furthermore, it had allowed him the freedom to make Man with the Screaming Brain. Then he quietly admitted that he agreed with me, and shook my hand.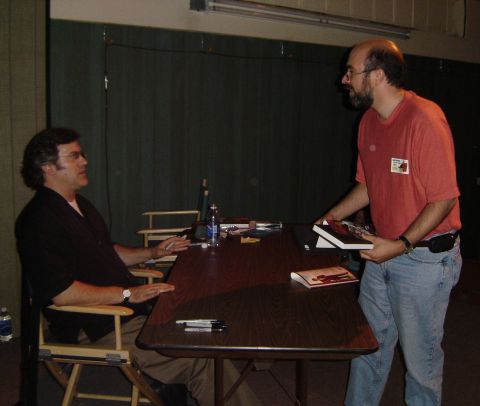 Trading barbs.

After dinner, we came back to the theater for a Q&A session in which the wise-asses were circling. My contribution was, "Now that (his friend, director) Sam Raimi is such a big shot, why won't he give you a decent part in a Spider-Man film?" His quick response–I suspect he's had the question before–was that, as the unctuous theater doorman in Spider-Man 2, he was the only person who has ever defeated the webslinger.
At 10:00 pm, it was time for the film itself. And unfortunately, while it was certainly unique, that didn't mean that it was good.
Set in Bulgaria–where the Sci-Fi Channel makes all of its Saturday night original films–Man with the Screaming Brain is a curious mix of '50s B-movie horror, body-switching comedy, violent revenge flick, and overdone slapstick with a touch of romantic reconciliation. If that doesn't make sense, well, neither does Man with the Screaming Brain.
Campbell plays a pharmaceutical company CEO who visits Bulgaria with his estranged wife in an inexplicable attempt to invest in the former Communist country's half-finished subway system. The two fall in with a former KGB agent turned cab driver, and all three ultimately meet their demise at the hands of a vengeful gypsy woman.
A local scientist (Stacy Keach) and his goofy assistant (Ted Raimi), who have developed a technique to allow tissue transplants without the possibility of rejection, steal the bodies and place a portion of the cab driver's brain into Campbell's damaged skull. Also, they put his wife's brain into a robotic body they just happen to have at hand.
Campbell escapes, and with a hastily-restitched skull and the voice of the cab driver–whose transplanted brain tissue controls the left side of his body–echoing in his head, sets off to find and kill the gypsy. (His robot wife does the same.)
But first, there's an attempt to emulate Steve Martin/Lily Tomlin's All of Me when Campbell's two personalities battle for dominance over a restaurant dinner. As I mentioned, Campbell is adept at making his body appear to be inhabited by more than one mind.
At times, the film comes closest to another Steve Martin film, The Man with Two Brains, as it takes a silly approach to '50s sci-fi cliches. However, it tries too hard for too little result, and that goes double for Ted Raimi's semi-comprehensible Bulgarian oaf, who gets entirely too much screen time.
In the end, it's neither outrageous (or funny) enough to satisfy as a spoof, nor is it serious enough to enjoy as a B-movie pastiche. I was glad that Campbell had already left for an event in Kentucky by the time it ground to a halt, as I feared having to say something like, "Gee, Bruce, that was really…something."
Perhaps the best praise I can give it as a film is that at least the images stuck to the emulsion. And it was twice as good as Alien Apocalypse.