And…We're Back
I've got the usual not-blogging excuses: lack of time, lack of enthusiasm, lack of anything to say. Blah, blah, let's move on.
I went to my first public radio conference earlier this month. I spent an entire week in Atlanta, participating in a workshop for newbie radio program directors before attending the main conference. I had a wonderful time and learned a lot, but by the last of the seven days, I was beginning to understand what George Clooney's character in Up in the Air felt. (Minus the looking like George Clooney and the discreet sexual rendezvous with Vera Farmiga.) Living out of a hotel gets old, even with a Chik-Fil-A a short walk away.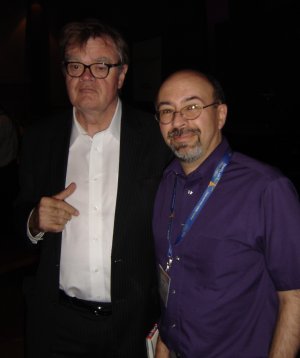 One welcome difference between my public radio and television worlds is that while it took me several years of PBS conferences to be socially comfortable, here I felt at home in just a few days. Heck, by the end I was sidling up to Garrison Keillor, as seen to the right.
The most important thing I learned about the radio portion of my job was that I was looking at it completely wrong. When I took on my new responsibilities as "content director" for both WILL television and radio, I assumed that the latter wouldn't consume much of my workday. I viewed it mostly in terms of program scheduling, and thought, "hey, the lineup rarely changes." The program directors' workshop disabused me of that narrow focus; the PD's role is one of monitoring every aspect of the listener's experience. Since I've returned from Atlanta, I've had to change the way that I listen to WILL-AM and -FM, and to be much more mindful of the sound and content of the station breaks.
Even though I'm working at the same place and doing many of the same things, I feel as if I'm embarking on a new career, and at my age, that's something I didn't expect to experience.