31 Monster Toys #25: Horrorclix – Alien Queen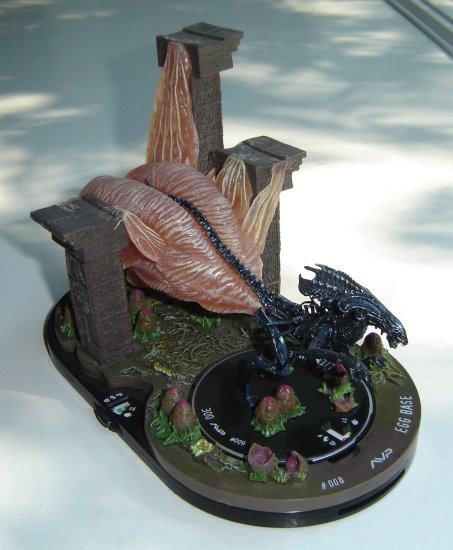 In 2000, games manufacturer WizKids came up with a very clever concept: a miniatures wargame in which each figure's attack and defense values were displayed on a unique, two-piece base. As the unit took "damage," the player would rotate the base, revealing new values and activating special powers. Mage Knight was a hit, and spawned a bunch of similar "clicky," collectible miniatures games, including the superhero-themed HeroClix and its spooky counterpart, HorrorClix.
The latter game began with generic monsters, but soon began to license other frightful film properties: Freddy vs. Jason, Hellboy and Alien vs. Predator. From the latter comes today's entry: the Alien Queen. This oversized figure slots into an even larger base depicting the Queen's egg sac. Honestly, I have no idea how the egg sac is used in gameplay, but it looks cool and isn't that what matters most?