The Long Road To Fifty: 6
While it now seems to be a given that little boys are into dinosaurs, when I was six I was treated as if it was unusual. Certainly, none of the other children in my class were as dino-obsessed. I could name (and spell) all of the major species. I could spot the difference between a Tyrannosaurus Rex and an Allosaurus; a Brontosaurus* and a Brachiosaurus. I even knew the periods of the Mesozoic Era: the Triassic, Jurassic and Cretaceous. (Though I pronounced the latter as "Creature-ous.")
Dad once told me that the school wanted me to skip a grade. While I'm not certain that's true, I do know that when I was in 1st Grade, I was invited to visit the 2nd Grade to teach them about dinosaurs. I'm sure they were impressed.
All of today's photos are from one of our family vacations. Over the years we toured or at least passed through most of the central and upper western states, which was fine by me because dinosaur-related museums and parks were everywhere, and it was my intention to visit all of them.
While we traveled many of these United States, Dad's favorite destination to this day is Colorado, and we went there a lot. Rocky Mountain National Park, Estes Park, Denver, Colorado Springs and Cripple Creek were as familiar to me as Indianapolis.
The next photo, as well as the one of the dinosaur above, were likely taken at North Pole, a Christmas-themed amusement park near Pikes Peak. While it's known for being the home of Santa's Workshop, apparently Mary and Joseph made the rounds as well.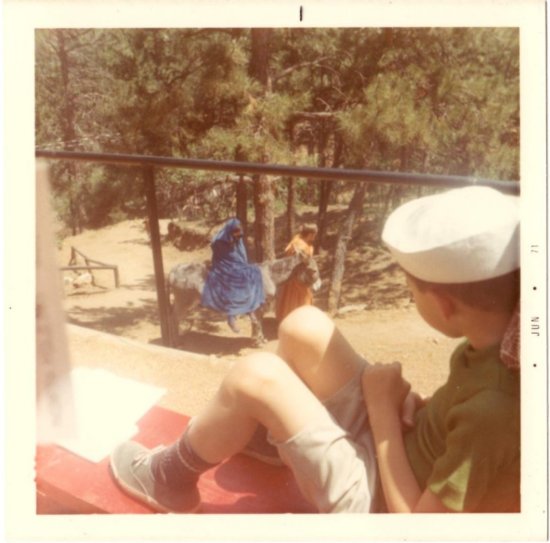 A highlight of the Colorado trip was the journey up Trail Ridge Road in Rocky Mountain National Park. These days Dad is far too acrophobic these days to make the drive up to its 12,000-foot summit, but back then it was one of his favorite things to do. Personally, I cared less for the spectacular tundra views than I did the opportunity to feed the chipmunks at Rainbow Curve. A steep, rocky slope, it was home to dozens of the little beggars. A bag of peanuts was all one needed to get very, very close to nature.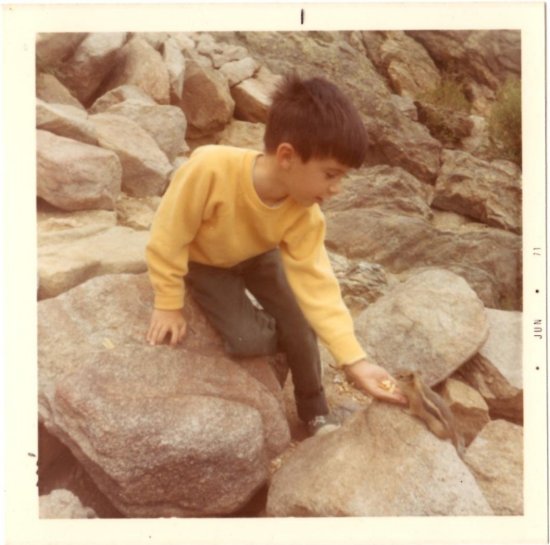 Oh sure, I suppose that I could've gotten rabies or Rocky Mountain Spotted Fever, but not even my tremendous fear of disease would've deterred me. You haven't known joy until you've seen a chipmunk shell a peanut.
*This was several years before scientists declared that the Brontosaurus never existed. Stupid, fun-ruining scientists. In addition to being well-versed in all things prehistoric, six-year-old me could name all nine planets–that's right, I said nine–in order. Six-year-old me has a bone to pick with Neil deGrasse Tyson regarding Pluto.