The Long Road To Fifty: 16
And then I had a mustache.
My facial hair kept coming in thick and fast, and one day, after hearing the taunt "You're growing a mustache!" for the eleventy-billionth time, I decided, "Fuck it, I will grow a mustache." That showed them.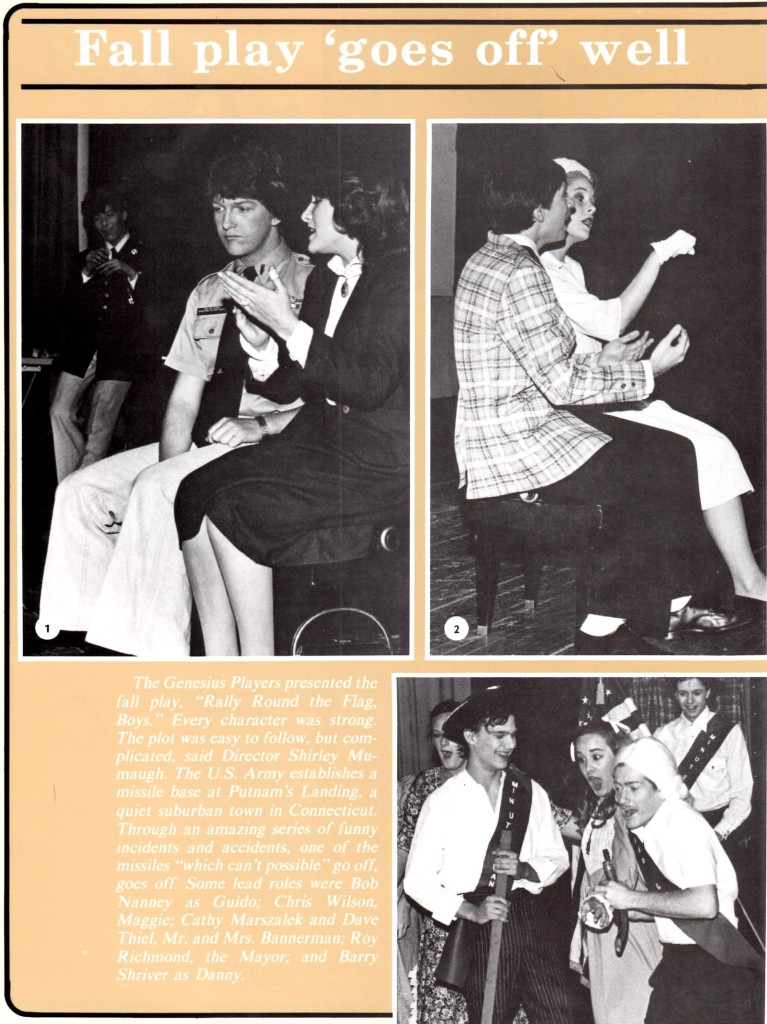 Junior year was the pinnacle of my high school acting career. I scored the second male lead in the Cold War comedy Rally 'Round the Flag, Boys. (Take note of that jacket I'm wearing in the above photo. You will be seeing it again.) My "wife" in the production was a stunning blonde named Cathy, and I was to kiss her. It said it right there in the script. Now, you may be thinking "score," but honestly, I was scared.
Miss Mumaugh ultimately had to pull the two of us into the spare choir classroom so that I could practice kissing. Again, I know what you're thinking, but it wasn't like that at all. It was painfully awkward, and I'm sure trebly so for her.
I survived the ordeal, and went on to land the part of Buffalo Bill in the spring musical, Annie Get Your Gun. That was a lot of fun; I got to wear a white, spangly cowboy suit. I was also supposed to sport a ridiculous wig, but ultimately we opted for spraying my hair grey. I liked the grey hair look. Unfortunately, my follicles abandoned me decades before I would be able to adopt that look for reals.
The following summer, I was one of a handful of HHS students selected to go to theater camp at Indiana State University in Terre Haute (a French phrase meaning "hot dirt"). It was my first time away from home for an extended period, and I was seriously freaked out. (It did not help that I discovered my roommate was stealing my prescription pills. Buddy, you were not going to get high off what I was taking.) I got a grand total of four hours' sleep those first two nights. I was literally zonking out during our relaxation exercises.
After that I settled down and had a great time. I got to hang with the funny kids, listening to Monty Python albums and singing "Sit on My Face."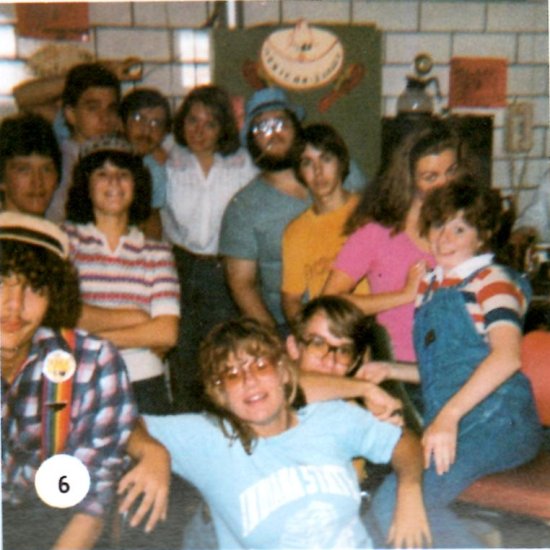 I was totally smitten with the girl in the white blouse in the above photo. You'll note that I managed to slip in beside her for the group shot. Her name was Celeste, and she fit my "type": pretty, brunette and smart. While, of course, I went absolutely nowhere with this summer infatuation, I did spend the next few years saying that I wanted to name my daughter Celeste. Eventually, someone pointed out to me that that would make her full name "Celestial." And then I wanted to do it all the more.