Way back in February, I pre-ordered Hasbro's super-deluxe collectible "Cloverfield Movie Monster" action figure. Seventy points of articulation? Interchangeable heads? Comes with ten "parasites" and the head of the Statue of Liberty? I was so there!
In October, my order (in fact, all orders) were inexplicably canceled. After checking with Customer Service, it appeared that Hasbro's computer automatically killed them once the toy's original October release date had passed. However, I was told that it would indeed be coming out in December, and that I should place a second order. Which I did.
Sometime between now and then, my original order was just as mysteriously reinstated. Long story short, TWO of them arrived on my front porch on Friday. And trust me, at 14″ tall and a hundred bucks a pop, two is definitely one too many.
Two, two, two giant shipping cases!
I contacted Customer Service again, and was told that it was all okay. All I had to do was to affix the included return label to one of them and drop it off at the FedEx office.
Guess what wasn't in either box? I called again yesterday and asked them to e-mail me one, but apparently they can only do it by "escalating" my claim and sending a return label via snail-mail. Bleah.
As for Clovey himself, damn, he's impressive. They weren't lying about the 70 points of articulation. Dude's got joints everywhere. I'm sure that there are still some I haven't found yet.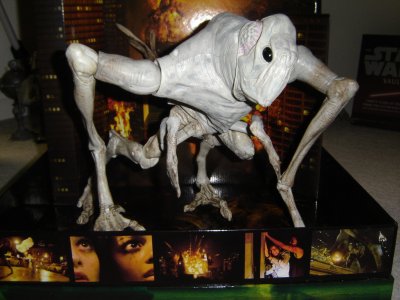 The box is equally impressive, though in hindsight I'm finding it a problem. As a high-end collectible, it comes in a super-fancy, full-color box (featuring the decapitated Statue of Liberty image from the movie poster) that lifts off to reveal a 3D cityscape. Clovey really wants to be displayed there, but damn, it's big for an already crowded toyroom. And even storing it away somewhere safe may take some doing.
I was a bit disappointed in the accessories. The parasites and Liberty head are apparently in scale, which means that they are tiny compared to the creature. I would've thought Liberty's noggin was bigger, but apparently not.
Hobbes says "What the what?"
On the plus side, there's the scary, second head with its open mouth. Pushing its tongue activates its eerie roar, which my cat does. not. like. And did I mention 70 points of articulation? I remember when "16 points of articulated evil" was enough to impress me.