It's a good time to be a fan of old-school DC superheroes. In addition to the torrent of Showcase Presents reprint volumes, there's also this: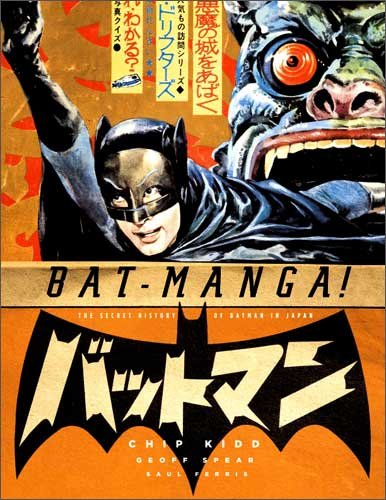 Bat-Manga is a collection of Batman ephemera produced when the '60s live-action series was introduced to Japan. While it includes many arresting candy and toy package illustrations–including some curiously ugly depictions of Robin the Boy Wonder–the real prize is the assortment of rare comics. I'm by no means a manga fan, but the chance to read Batman filtered through the insane lens of Speed Racer-era Japanese pop culture was too much for me for pass up. Forget about the Joker and Two-Face, this book features villains such as Professor Gorilla and Lord Death Man, and that's at least three flavors of awesome.
"Three flavors of awesome" also describes Batman: The Brave and the Bold, which clocked in with another new episode last Friday, "The Day of the Dark Knight." It wasn't enough to feature the Silver Age versions of Bats and Green Arrow squaring off against Jack Kirby's Etrigan the Demon, no sir. The teaser sequence had the Caped Crusader on Oa, the home planet of the Guardians of the Universe, and included cameo appearances from pretty much every Silver and Bronze Age alien Green Lantern…including Ch'p, the squirrel Green Lantern! But even that's not the reason this episode maxed out the Awesometer.
Nope, that was the scene that I screen-capped above, in which Batman and Green Arrow foiled a mass prison break of what appeared to be just about every villain from the '60s live-action Batman series. You can see the Mad Hatter (a comics villain that was featured prominently on the TV show) getting clocked by a Batarang above, but right behind him is the Minstrel, the Bookworm and Clock King. Other recognizable faces in the scene were Egghead, King Tut, False Face, the Siren, and Louis the Lilac!
The entire episode is available online for a few days. Check it out!