I've written before about one of the differences between the TV of my childhood and that of today: the variety (and longevity) of sci-fi/fantasy dramas. In my day, you were lucky if there was one such series on network TV, and the odds were greatly against it surviving a single season. In other words (imagine me standing on my front porch, shaking my fist as I say this) you took what you could get, and you liked it.
Now, genre fans are marinating in the stuff. There's a franchise for every taste, and even the unloved ones achieve renewal. (Beauty and the Beast will soon begin its third season.)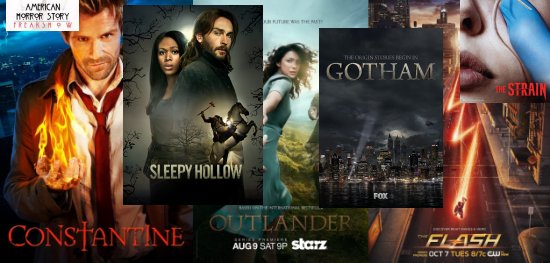 The other day, I attempted to create a comprehensive list of all sci-fi/fantasy/horror dramas currently on the air or in active production. Here's what I came up with:
The 100
American Horror Story
Arrow
Atlantis
Beauty and the Beast
Bitten
Constantine
Continuum
Da Vinci's Demons
Defiance
Doctor Who
Dominion
Extant (just renewed for season two, despite no one watching it)
Falling Skies
The Flash
From Dusk to Dawn
Game of Thrones
Gotham
Grimm
Haven
Helix
Hemlock Grove
iZombie
The Last Ship
The Leftovers
Lost Girl
Marvel's Agents of S.H.I.E.L.D.
Once Upon a Time
The Originals
Orphan Black
Outlander
Penny Dreadful
Resurrection
Salem
Sleepy Hollow
The Strain
Supernatural
Teen Wolf
Under the Dome
The Walking Dead
Witches of East End
Z Nation
Forty-two. Forty–two. And that's not counting the cartoons.
Of these, I regularly watch seven: American Horror Story, Doctor Who, Falling Skies, The Flash, Marvel's Agents of S.H.I.E.L.D., Sleepy Hollow and The Strain.
I've heard good things about Arrow, Defiance and Orphan Black, among others. I'm intrigued by Once Upon a Time and will get around to Game of Thrones one of these days.
But there are literally dozens of genre shows I've never seen and will never see. And while I admit it's a stupid thing to complain about, I honestly think it's all a bit much. Even the relatively narrow fanbase for such programming is fractured six ways from Smallville. We all live in our own personal fantasy worlds, and those with whom we once might have shared our enthusiasm are a universe away.