The older I get, the more I think that I understand the disappointment of the previous generation. They see the world slipping away from them. For good or ill, their time has passed.
Our popular culture is codified by demography. Marketers endlessly chase 18-34 year-olds. They might invite the 35-49s to peer under the tent, but once one hits the big five-oh, the circus packs up and rolls on to the next cow town.
Which is a long and melodramatic way of saying that I'm a grumpy, old man who doesn't care much for your newfangled James Bond.
Now, I know that you didn't truly enjoy Quantum of Solace either. But you thought that Casino Royale was the best thing since shaken martinis, and that the latest installment, Skyfall, was even better.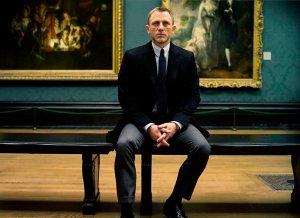 And what I have to resign myself to is that you and I just want different things. I want my James Bond to be less mopey. Ruminating about his mortality is something Bond should do on his own time, not mine.
I think that my dissatisfaction with what passes for a James Bond joint these days is exemplified by his meeting with the new Q. The young quartermaster hands him his gadgets for this adventure: a pistol and a radio. Granted that even Bond is disappointed. Q tells him that they don't do exploding pens anymore.
Well, why am I watching, then? Bond isn't Bourne, or that Mission: Impossible guy. What separates 007 from every other homicidal secret agent is that he's the one with the magnetic wristwatch and the car that turns into a submarine. There are all manner of action heroes who don't battle cat-stroking masterminds in volcano strongholds.
In their place, we get Javier Bardem as a former MI-6 agent gone rogue. He's flamboyant enough to be a decent 007 villain, but his scheme is decidedly low-wattage. He wants to kill Bond's boss, M. And…that's it. Okay, he wants to humiliate her first. That's something, I guess.
But everything else–exposing embedded agents, blowing up MI-6, getting himself captured–is all part of a needlessly-complicated plot with the sole endgame of putting a cap in Judi Dench's ass. This isn't a movie about a super secret agent saving the world. It's about spies killing spies, with the rest of us caught in the crossfire.
The opening sequence–by far the best part of the film–is a thrilling chase through city streets, across rooftops and finally atop a speeding train. It's endearingly over-the-top, climaxing with Bond recoupling the train using a convenient backhoe. For those few minutes, I had hopes that the franchise was at last emerging from the doldrums. Unfortunately, that was the action highlight.
Bond spends the next half hour or so being pissed off at M for ordering a fellow agent to take a risky rifle shot which hits him instead of the target. Pity he had none of that concern for the literally hundreds of innocent pedestrians and motorists injured during their damn-the-torpedoes chase.
The fact that (MAJOR SPOILER) Bond ultimately fails to save M renders even more pointless the lost lives of all those thugs, assassins, agent provocatrixes and unlucky security guards that fell along the way. (SPOILER ENDS)
Like the early Star Trek feature films, the major theme of Skyfall is age. I'm not certain that it's a great idea to acknowledge that Bond is aging out of the moviegoing demographic. It's not like there won't be another actor in the role in five years or so. Besides, it begs the question of when in 007's timeline this is taking place. On one hand, the beloved Aston Martin DB5 from Goldfinger comes out of mothballs for a final road trip, yet the film concludes with Bond being formally introduced to Miss Moneypenny, the secretary who appeared in every last one of the non-Daniel Craig 007 films, including four with Judi Dench's M.
Perhaps James Bond is getting forgetful? He'll be a grumpy, old man himself one day soon.