I'm just speculating here, but I imagine that the average anxiety level in the production offices of Legendary Pictures has risen a few notches. Here they are, trying to drum up interest in next summer's Godzilla reboot at the same time that the American public is demonstrating its indifference toward their current giant monster epic, Pacific Rim.
Maybe it was just a scheduling issue, but it did seem odd to me that Godzilla is being produced as the follow-up to Pacific Rim rather than the other way 'round. Godzilla has the name recognition, but it also has (so far as we know at this time) just the one giant monster. (EDIT: Ding dong, I'm wrong. The official description was just released, and say "this spectacular adventure pits the world's most famous monster against malevolent creatures who, bolstered by humanity's scientific arrogance, threaten our very existence." So there's that.) Pacific Rim, on the other hand, has lots of monsters (and robots), but isn't based on an existing property.* Coming out second, Godzilla risks being seen as the lesser spectacle, a potential problem made worse if Pacific Rim appears to have poisoned the giant monster well.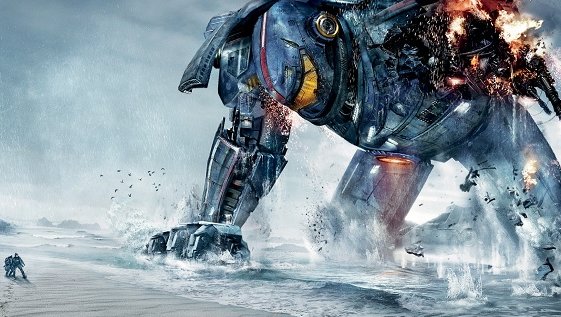 Unfortunately for Legendary Pictures and Godzilla fans, Pacific Rim isn't just a mediocre box office performer, it's a mediocre film.
I'm torn here. I really, really, really, really want to love it. I want to hold it to my bosom and proclaim it as the Second Coming of Spielberg.
And, lest we forget, I am very forgiving when it comes to giant monster movies. I unreservedly love Godzilla vs. the Smog Monster, despite production values perhaps 1,000 times lesser than those displayed by Pacific Rim. Hell, recently I voluntarily watched the nadir of the Toho Studios film series, Godzilla vs. Megalon, in its native Japanese.
Now I'm in no way saying that Pacific Rim is inferior to Godzilla vs. Megalon, in that very little that exists in any of the known states of matter is less than Godzilla vs. Megalon. It's just that, considering both its production budget ($190 million) and pedigree (acclaimed filmmaker Guillermo del Toro), I hold Rim to a higher standard.
The main problem for me is the assortment of stock character types with their off-the-shelf backgrounds and motivations. That wouldn't be a problem if they brought a bit of personality or fun to the party, but the only ones who seem to be having a good time are Ron Perlman as a dealer in monster body parts, and Charlie Day and Burn Gorman as the comedy relief scientists. When the frog-faced guy from Torchwood is the most entertaining member of your ensemble, that's a concern.
My other major complaint is that, with the exception of a couple of flashbacks, every monster appearance takes place at night, in the rain and/or at the bottom of the ocean. I thought that we were past the point that we needed everything to be dark and rain-streaked to hide the special effects seams.
So, what does Pacific Rim do right? A lot, actually. It's got a bit of a Top Gun vibe with its international team of pilots. The monster designs–many courtesy Hellboy artist Guy Davis and master alien illustrator Wayne Douglas Barlowe–are varied and bizarre. A great deal of attention has been paid toward world-building, with such details as a slum built inside the carcass of a dead beast and a misguided attempt at border-security known as the "Wall of Life."**
It's far from a disaster, but it's a definite disappointment coming as it does from del Toro, whose love for this subject matter runs deep.
In light of this, I say good luck, Godzilla. Your long-anticipated comeback just got a bit more difficult.
*And if you doubt the power of intellectual property, look at the many Internet comments declaring Pacific Rim to be a Transformers rip-off, even though what it's really ripping-off predates the robots-in-disguise by several decades. Furthermore, consider that Transformers: Dark of the Moon made nearly as much on opening day (a Wednesday) as Pacific Rim did in its first weekend.
**It, of course, works here about as well as it does in real-life, never taking into consideration–for example–that the evolving cavalcade of creatures might eventually exhibit the ability to fly.