Tomorrow the film Abraham Lincoln, Vampire Hunter arrives at the multiplex. It's an adaptation of the book of the same name by Seth Grahame-Smith, who stuck zombies into Pride and Prejudice and kicked off a wave of decreasingly-imaginative* literary/horror mashups from the "two things" school of humor. This one is from the parallel subgenre that replaces fictional characters with historical figures.**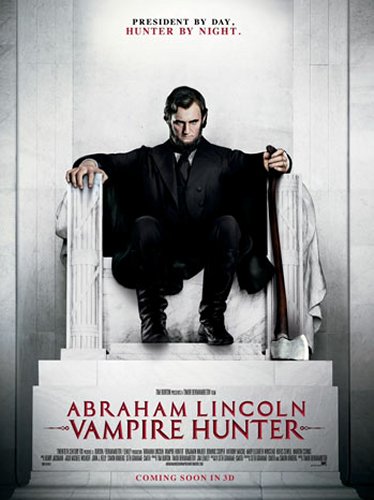 And it makes me angry.
Not because it's dumbing down the movies. (Remember, I saw Transformers.) Not because it's a one-night concept that's right there in the title. (I also saw Snakes on a Plane.) And not even because the filmmakers appear to be taking it entirely too seriously.
It's because it posits that the Civil War was fought because Abraham Lincoln wanted to stop vampires from creating a nation in which they could own a self-perpetuating blood supply. You know, blacks.
Look, I don't think (very many) people are going to walk away from this film believing that it's actual history. But there are still plenty out there who choose to believe that the Civil War was about "states' rights," instead of being about people who fucking wanted to own other people.
To the extent that Abraham Lincoln, Vampire Hunter allows them to further distance themselves from the bubbling black heart of our nation's history, fuck it.
*Sense and Sensibility and Sea Monsters? Really? Really.
**Queen Victoria, Demon Hunter. Jesus. Oh, no, wait…Jesus is in Grahame-Smith's Unholy Night.